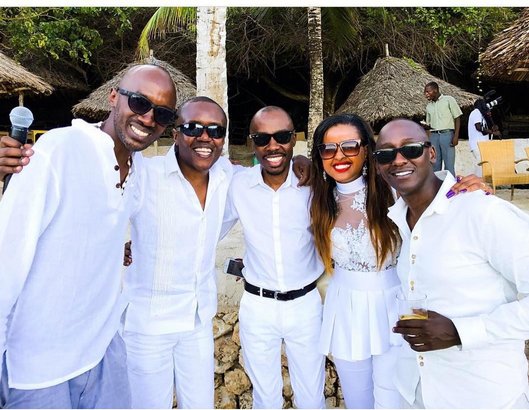 The Consumer Federation of Kenya (Cofek) now claims there is more than meets the eye in the relationship between Classic 105 FM morning breakfast show host Maina Kageni and the man behind a company that is being accused of duping of unsuspecting land buyers to con them of millions of shillings.
Cofek alleges the relationship between Kageni and Property Reality Company (PRC) Chairman Brian Gacari is not that of a mere advertiser but friends.
In a photo published on its website, Kageni is seen attending the wedding of Gacari and his wife Mercy.
The photo was posted by Classic FM on its website with a mouthful flatter story to boot, says Cofek, which has been receiving complaints from buyers who have unsuccessfully been trying to get back their money. Some had taken loans to buy land and greenhouses with a promise the investment will give them handsome returns.
Radio Africa Group Chief Operating Officer Ms Caroline Mutoko is also listed on the PRC website as a "board director" and member of the "finance, strategy & investment board committee".
"When will they speak out? What will make them speak? Because speak out, they must."
According to Cofek, nearly all duped PRC buyers claim they fell for the s*****t deals on hearing Classic FM advertise them through Kageni and the Classic Home Expo.
The watchdog claims both Kageni and Mutoko have maintained loud silence when invited to respond on the PRC scam on their social media pages.
Meanwhile, Cofek says many more complaints on PRC are still pouring in … sad tales of people losing cumulative hundreds of millions. "When will they speak out? What will make them speak? Because speak out, they must," it says of Kageni and Mutoko.
It says Mr Gacari called Cofek last Friday and requested that Cofek forwards the complaints to PRC and that the website articles be pulled down.
Cofek declined but instead proposed a meeting between aggrieved buyers and PRC board members. But as this was going on, over the weekend, Cofek discovered through one of the complainants that PRC was actually on a charm offensive targeting the complaining buyers one of whom slammed PRC for "sham PR" when "rattled" with ongoing Cofek investigations.
That meant PRC, as had been complained of, lacked the good faith and goodwill to try the win-win dialogue option. In any case they remained non-committal about costs for Cofek intervention.
Mr Gacari had initially (on phone) requested an initial meeting between Cofek Secretary General Stephen Mutoro and one or two of his directors – which suggestion Cofek says it declined on account that the consumer rights watchdog was not a complainant – and it could potentially raise integrity issues.