Samsung Electronics East Africa on 12th February hosted its first smartphone experience event at the Urban Eatery restaurant in Nairobi. The event showcased new smartphone technologies from Samsung and revealed the changing trends in consumer tastes.
Key among smartphones showcased was the recently launched Galaxy S21 range of devices that are now available in the market. The electronics manufacturer also launched the 2021 A-Series range of devices that are targeted at consumers looking to purchase more affordable smartphones.
"As Samsung we have a smartphone to suit every person's needs," Charles Kimari, Head of Integrated Mobile, said.
The Samsung Galaxy S21 range of devices that were launched in January were also showcased. The Galaxy S21 range of devices were available to pre-order from 22nd January to 11th  February 2021, but are now available in Samsung dealer shops.
"2021 has been a very interesting year for the smartphone market. We have seen very unusual purchase trends that have forced us to change our sales strategies. One example is the demand for devices with high memory capacity has increased by over 30%," Kimari said.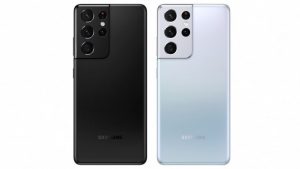 "The colour choices that consumers are making have also really changed, this time last year we saw most men buying black smartphones while women went for the colour options, however this year we are seeing a trend where men are buying a range of colours like the Vibrant violet which we have never seen before in this market."
Last year there was high demand for the Galaxy A Series with the A51 being the bestselling phone.
The Galaxy S21 Ultra 5G is the crème of the newly launched S21 range. The device now includes the capability to use the Galaxy Note series' famous S Pen. This technology enables drawing, taking notes, editing photos or even taking pictures with the device set up from a distance.
The S Pen compatibility means you can fine-tune while editing your videos down to the last frame, with the precision that your finger simply can't touch.