Silverstone Air Limited is set to change its name as it rebrands in a bid to bounce back from PR and regulatory nightmares over the safety standards of its fleet.
It has already notified regulators of its intention to be known as Jetlite Air Limited. Silverstone had in 2019 voluntarily suspended passenger flights under the cloud of concerns on passenger safety.
In October 2019, the low-cost carrier was in the headlines when one of its planes skid off the runway at Wilson Airport injuring two of the 50 passengers on board. A month later, another of its aircrafts was forced to make an emergency landing at Eldoret International Airport after one of its wheels came off.
At the time, the Kenya Civil Aviation Authority (KCAA) suspended Silverstone's Dash 8 fleet from flying for seven days to allow for inspection.
In September 2020, a Silverstone air cargo plane crash landed in Mogadishu in unclear circumstances.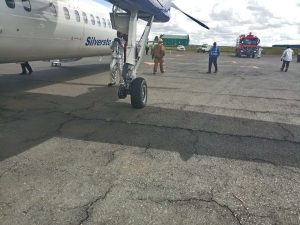 Photos showed the Kenyan registered plane 5YMHT , a Fokker 50, crashed against the perimeter wall at the airport.
Silverstone Air hopes the rebrand will help the firm move on from the negative publicity occasioned by the incidents.
The firm has reportedly cleared 85% of air ticket refunds following its suspension of flights as it ramps up the comeback plan.
Silverstone began as a charter and contract air operator serving destinations in Northern Kenyan and South Sudan. At the time, NGOs made up most of its clients.
The company however made a splash in the market in 2017 as it began flying to other local destinations including Kisumu, Diani and Malindi.
Competitors such as Jambo Jet have eaten into Silverstone's market share since they grounded their passenger flights. Low-cost carriers have been scrambling to capitalize on local travel and domestic tourism which has gained prominence since the onset of the Covid-19 pandemic and restrictions on international travel.