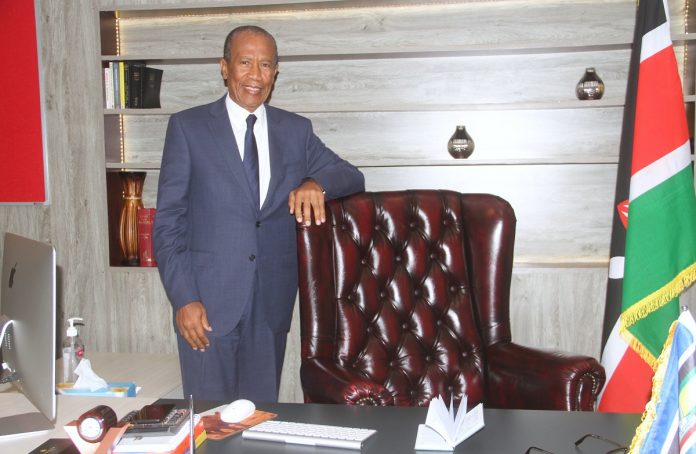 When we meet venture capitalist Jorge Mandiga at a stately-yet-homely office space somewhere in the leafy suburbs of Nairobi, the gentleman gives off the serene air of a seasoned diplomat or statesman.
Which he is, having until very recently been the Minister of Transport and Tele-Communications in the small nation of Guinea Bissau, and having welcomed the delegation of his President Umaro Embalo, who attended the inauguration of Dr William Samoei Ruto a week ago; alongside presidents Dennis Nguesso of Congo, Filipe Nyusi of Mozambique, Emmerson Mnangagwa of Zimbabwe, Wavel Ramkalawan of the Seychelles, Azali Assousmani of the Comoros, and of course all the East African Community Heads of State, many of whom are keen on keeping up trade or getting into continental business ventures in Kenya, and in with the new Ruto regime.
Ex-Ambassador to Kenya and Yale lecturer, Dr Mokhtar Ghambou, says this is very normal, every time there is a change of guard at the presidential palace or the State House of African nations.
"Long term, to use a practical example, if the new president (Ruto) wishes to establish lower fertilizer prices for farmers, he may wish to get Kenya into intra-trade with the Maroc company OCP (Office Chérifien des Phosphates), which is the world's leading manufacturer of phosphate-based fertilisers, with a third of the world market (and over $ 6 billion in revenue in 2021). It is all about food security for the common citizen, as well as other areas like tourism, where we are actively thinking of re-opening the direct airline route between Nairobi and Casablanca for intra-continental tourism."
This past Monday, the Ministry of Agriculture said the National Cereals and Produce Board began the distribution of the low-cost fertilizer from its depots and sub-depots countrywide – with a 50 kg bag of DAP @ Ksh3,500, the same price as Urea, with CAN at Ksh,875, NPK at Ksh3,275, Sulphate of Ammonia at Ksh2,220 and MOP at just Ksh1,775.
Kenya, which is largely an agricultural country, relies heavily on agriculture for both sustainability of food and of income. Before then, Kenya imported most of its fertilizers from Russia. According to United Nations COMTRADE database on international trade, Kenya' spent around US$63.21 million in 2021 on these imports.
El Ghambou also had engaged with Azimio-One Kenya leader at length last year, and Raila Odinga has said that he "understands the importance of the beneficial relationship between Kenya and Morocco."
Dr Mokhtar believes the Franco-phone and Anglo-phone prosperity lie in trade, and not "phony proxy" conflicts such as the one in his nation, where "Algiers sponsors secessionists (Polisario) over the Saharawi region, a semi-autonomous part of Southern Maroc that is content to be in the Kingdom."
"We got our Independence from the Portuguese after a hard-fought Wár of Liberation," ex-Minister-cúm-continental businessman Jorge Mandiga says. "This was ten years after Kenya, which we must agree got hers after the Queen simply relinquished it as her colonial holding."
( Kenya did fight for her freedom too, in a way, through the legendary nationalists, Mau Mau).
But the 71-yearold magnate has clearly been shaped by the experience of transitioning from his childhood then into his teens, then young adulthood, through the Liberation Wár of 'Portuguese Guinea', an àrmed rebellion begun in 1956 by the African Party for the Independence of Guinea and Cape Verde(PAIGC) under the leadership of Amilcar Cabral gradually consolidated its hold on the country. Unlike guèrrilla movements in other Portuguese colonies, the PAIGC rapidly extended its mìlitary control over large portions of the territory, aided by the jungle-like terrain, its easily reached borderlines with neighbouring allies, and large quantities of arms from Cuba, China and the USSR, as well as other socialistic leaning countries in Africa.
"Cabral was assassìnated in Conakry by party rivals, possibly in complicity with Lisbon," Chairman Jorge says. "He was not just one of our continent's foremost anti-colonial leaders but also an agricultural engineer, intellectual, poet, theoretician, revolutionary, diplomat, political organizer, natìonalist and Pan-Africanist. When his men were not on the battlèfield, they were in the fields, teaching local farmers better agricultural techniques to increase the yield of the land from the work of their hands …"
See Also >> In Family Owned Businesses, Trust Is a Strategic Advantage
And it is this mentality that Chairman Jorge Mandiga has brought to his approach to life and business, that has made his hedge-fund a fruitful venture on the African continent.
"Power projects are the base of any economy and the locomotive to its success," he says, "which is why we are very interested in following Kenya's Least Cost Power Development Plan (LCPDP), especially on the Ol Karia project. The new president (Ruto) has promised to pursue his predecessor's Big Agendas (sic), which is why we want to pump in a few hundred million dollar in the power sector, because it does play a pivotal role as an enabler for various economic sectors to meet their objectives (as well as offer good returns to investors on their shilling investment)."
'I believe in Intra-Continental Development, and that can only begin if Africa takes down her barriers.'
As a Civil Engineer, Jorge Mandiga holds an engineering degree from the University of Lisboa and an Executive MBA degree from IMD, Lausanne, Swizerland, and cut teeth on dam projects. "With my experience as a Minister (of Telecoms and Transport), we're well-versed in deep studies on what projects to put money into, and Kenya with its anticipated 6% growth offers interesting opportunities, not just in shilling return but also as an opportunity to connect our economies."
If there is one thing that Chairman Mandiga is passionate about, it is continental Pan-Africanism. "I believe in Intra-Continental Development, and that can only begin if Africa takes down her barriers.
First politically, so that we have one passport for ease of movement across the continent, and eventually economically, so that we have one Central Bank. However messily, we have seen this work in Europe with the Euro. Why can we not have an 'Afro' currency here for intra-continental trade?"
Read >> 24 Self-Development Tips That Will Make You Wealthy
Already in Angola, the Mandiga venture capitalist consortium of African private investors (and private Asian funds) has put in about USD250 million into agri-business projects in the province of Uige, where they also own vast land, and are in the process of investing similar sums in renewable energy, hydro-and-wind projects in Zimbabwe, 'as this is how the world is blowing.
And down in Kilifi, because Jorge Mandiga also has his hand in an entire chain of cashew nuts growing, processing and exporting that starts in Guinea Bissau and stretches to Vietnam where he has close relations with the processors, the county government of Kilifi has expressed interest.
"We are going to build cashew nut factories in Kakanjuni and Vipingo areas," Governor Mungaro told us in a recent interview. "Towards this end, we are talking to partners like the World Bank funders for National Agricultural and Rural Inclusive Growth Project (NARIGP). The cashew nuts industry in Kilifi has to be resurrected, as it would employ around 100,000 people, most of them residents, and our youth. We are happy to partner with private investors (like Mr Mandiga) with good field experience in the area of cashew nuts."
Next Read >> Here Are The Most Influential Women In Kenya