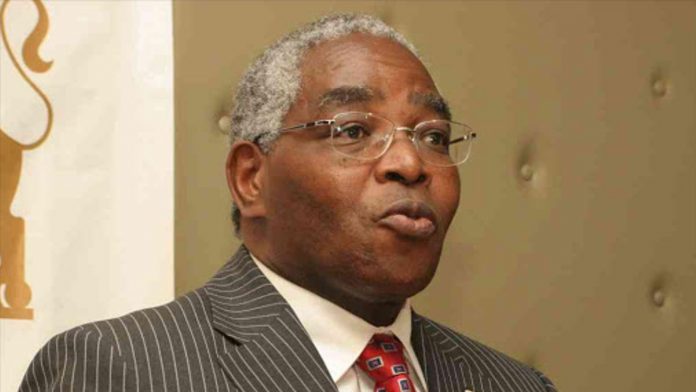 Aaron Ringera has been a retired judge for 18 years now, but the man simply can't stop working. Trusted by three different administrations to handle important assignments, he has taken on several State-appointed roles over the years.
Most recently, he was appointed as a non-executive director of State-owned power utility Kenya Power. The company announced his appointment on Thursday, August 25.
"The board of directors of the Kenya Power and Lighting Company is pleased to announce the appointment of Justice (Rtd) Aaron Ringera as a non-executive director of the company in accordance with the company's memorandum and Articles of Association," it confirmed.
In March 2021, he was appointed by President Uhuru Kenyatta to a 16-person task-force tasked with reviewing flawed power purchase agreements (PPAs) signed by Kenya Power with independent power producers (IPPs). The expensive long-term deals have been blamed for the high cost of power felt by consumers.
And when Kenyan football found itself in a quagmire in 2021, he was appointed by Sports Cabinet Secretary Amina Mohammed to head the Football Kenya Federation (FKF) Caretaker Committee. The committee was tasked with running Kenyan football following a move by the government to disband the Football Kenya Federation (FKF) over claims leveled against top officials including former President Nick Mwendwa. The action led to Kenya's suspension by FIFA.
READ>>Moi Family Moves StanChart Stake as Empire Shake-up Continues
Ringera also served as the arbitrator in the high-stakes legal battle pitting technology firm Seven Seas Technologies against the government. In August 2022, he awarded the firm Ksh1.6 billion after the State was found to be at fault in cancelling a contract awarded to the company to supply the medical technology aspect in the Managed Equipment Services (MES) scheme to better equip public health facilities.
SevenSeas had in October 2017 won the contract to wire 98 State hospitals. The Ministry of Health in 2019, however, terminated the deal.
In 2014, Ringera was appointed by President Uhuru Kenyatta to be a judge of the Appellate Division of the East African Court Of Justice in Arusha, Tanzania. He replaced Justice Philip Tunoi.
Ringera previously served as the first director of the Kenya Anti-C*****tíon Commission (KACC). He was appointed to the role by former President Mwai Kibaki in 2004. It was at this point that he resigned as a judge. The director of KACC made headlines at the time had the highest salary for a civil servant in Kenya, and reportedly enjoyed a better salary than the President.
When Kibaki appointed him to lead the KACC for a second term in 2009, Members of Parliament (MPs) voted against the appointment. He resigned in September 2009 and lawyer PLO Lumumba was eventually named as his successor.
The United States government in 2009 also sought to deny Ringera an entry visa over his allegéd role in hampering investigations while leading the Anti-C*****tíon Commission.
In March 1999, he had succeeded Harun Mwau as director of the Kenya Anti-C*****tíon Authority (KACA) which was declared unconstitutional by the High Court on December 22, 2000.  Earlier in 1999, former President Daniel Moi appointed him to the position of Solicitor-General replacing Benjamin Kubo.
Ringera has a Master's (LLM) and Bachelor's (LLB) degrees in law from the University of Nairobi (UoN). He also holds a diploma in international and comparative law of human rights from Strasbourg in France and studied for a diploma in law and practice at the Kenya School of Law.
Besides private practice, he was a senior lecturer in the University of Nairobi (UoN) and was chairman of the Department of Public Law. He was later appointed judge of the high court in 1994.