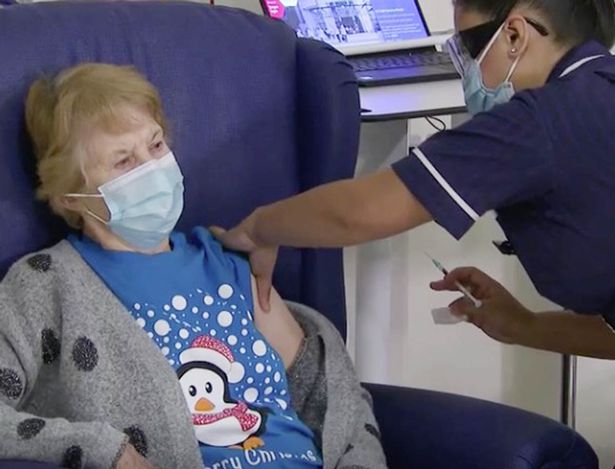 A 90-year old woman from Northern Ireland, Margaret Keenan, on Tuesday, December 8 became the first person in the world to receive the Pfizer Covid-19 vaccine outside trial conditions.
Keenan received an injection at the University Hospital in Coventry, England marking the start of the mass vaccination program in the United Kingdom.
The Covid-19 vaccination program in the UK, the first of its kind to be rolled out, is being undertaken by the National Health Service (NHS).
Keenan stated that she felt "so privileged" after making history as the first person to be vaccinated.
A grandmother of four, she described the vaccination as "the best early birthday present I could have hoped four".
She explained that she was happy as it meant she could comfortably spend time with her family over the holidays.
Keenan will receive a booster jab in 21 days, on Tuesday, December 29, to give her the best chance of protection against the virus.
Originally from Eniniskillen, Northern Ireland, Keenan has lived in Coventry for over 60 years.
Amid fears from a section of citizens over safety of the vaccine, she encouraged others to take it.
"My advice to anyone offered the vaccine is to take it – if I can have it at 90 then you can have it too!" she asserted.
The UK program has prioritized vulnerable individuals, with hubs vaccinating seniors over 80 years old and healthcare staff.
Much of the world is looking towards the distribution of the vaccine to facilitate a rebounding of economies suffering the shocks of the Covid-19 p******c.
In particular, availability of the vaccine is expected to ease global restrictions on travel and business.
Tourism Cabinet Secretary Najib Balala had noted that Kenya was counting on the vaccine to revive a tourism sector reeling from the shocks of the p******c.