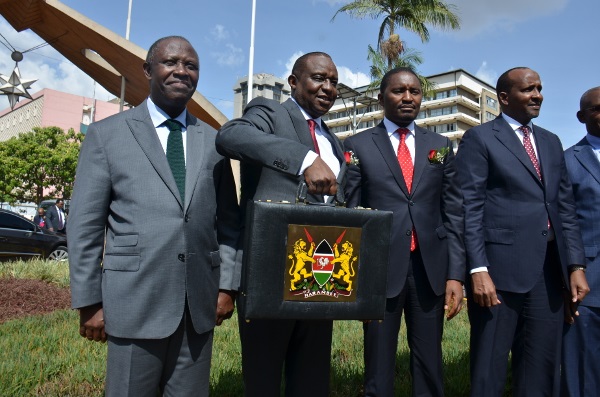 Highlights of the 2017/2018 budget
In 2017/18, Kenya Revenue Authority (KRA) will have to collect Ksh500 billion more, in a year that the Treasury has indicated it is unlikely to raise taxes. On top of it, the government will borrow Ksh900 billion to cover the budget deficit both from internal and external lenders. This will be good news for local banks which are experiencing reduced profits affected by the Interest cap regulation imposed by the government last year.
In a glimpse, we look at budget proposals that will be felt directly by the common person.
1. E*******n
The Cabinet Secretary for Finance Henry Rotich has allocated Ksh4 billion for national exam waver for both KCPE and KCSE exams. This means that parents will not have hard time looking for registration fees for national examinations, especially at a time when the economic climate is not favourable. For free primary and secondary e*******n the CS has allocated a total of Ksh57 billion ( Ksh14 billion primary e*******n and Ksh43 billion) for secondary school e*******n. To reduce absenteeism and drop-outs during this drought period, the government has allocated Ksh2.5 billion for school feeding programme. The government has further allocated Ksh2 billion for employment of additional teachers
2. Food & farming
Regarding the high prices of maize flour, the government has announced tax free importation of  white maize in the next four months and zero-rating of bread and maize flour. This consequently should reduce the price of bread and maize flour, failure to which will lead to reversal of the exemption by the government. Also,  Ksh6.3 billion has been allocated for irrigation with Bura Irrigation Scheme getting Ksh0.9 billion, Ksh 2.1 billion for the Mwea Irrigation Project, Ksh 0.6 billion for Galana -Kulalu and Ksh 2.2 billion for the National Expanded Irrigation Programme. Some Ksh 0.2 billion will go to smallholder irrigation programme and Ksh 0.3 billion for community based irrigation projects. Ksh4.1 billion has been allocated to subsidize fertilizer.
3.Health
Ksh700 million has been set aside for c****r services as Ksh5 billion will be used to lease more medical equipment.
4.Old folks, youth and women empowerment
The aged need not to be worried any more, if we go by the governments word that beginning from January 2018, all persons above 70 years will receive a monthly stipend of Ksh16,000 plus NHIF cover. The CS has also allocated Ksh18.3 billion to youth empowerment programme for mentorship and entrepreneurship. For women empowerment and mentorship, the government has allocated Ksh800 million.
5.County governments
County governments will have to share Ksh329.3 billion for the financial year 2017/2018, equal to 35.2 per cent of the government revenue. This has seen a small increase from last year's Ksh307 billion budget allocation to counties.
6.Civil service
This year's budget will see new recruitment into the civil service frozen, except for teachers, security personnel and health workers. However, the existing civil servants have a reason to smile after the allocation of Ksh1.5 billion for the betterment of civil servant houses through the civil servant housing scheme.
7.Title deeds
The Government has allocated Ksh1.6 billion for issuance of title deeds to citizens.
8.Trade and Industry
The government has allocated Ksh250 million for the moderation of New KCC. Also, all foreigners that win tenders will be expected to source at least 40 materials from local market to enhance job creation.
9. Sports & Entertainment
Taxes on B*****g and Gaming will go up by 50%. All proceeds will go into a National Sports & Culture Fund.
[crp]