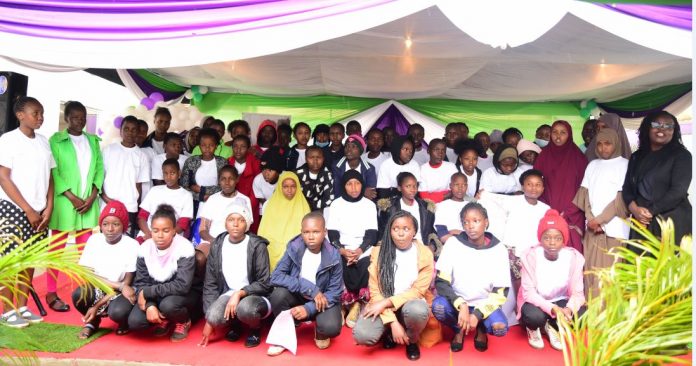 Enwealth Financial Services has awarded 120 students set to join secondary school with Ksh10.8 million in school fees grant under the Enwealth Fanisi Program.
The program, which is part of the organization's commitment towards improving the welfare of the society, supports bright but disadvantaged and under-privileged students by granting them full secondary school fees scholarships and mentorship to help them focus on their studies.
The number of beneficiaries is the highest in a single year since the program was introduced 10 years ago. From the over 500 applications received this year, 120 students made the cut bringing the total beneficiaries to over 450 and the total disbursed amount to more than Ksh30 million in grants.
"After the p******c, the Ministry of E*******n had to adjust the school calendar and subsequently, the students were rushed to cover their syllabus. Thus, we empathized with the students and lowered the cut off from 350 marks to 320," said Peter Waiyaki, the Chair of the Enwealth Board.
"We believe that e*******n has a manifold impact on society. It's the first step to improving one's quality of life."
Also seeking at the ceremony was CITAM Churches Bishop David Oginde who warned the students against bad company.
"I am glad to see Enwealth send these resilient young boys and girls to high school and we are confident that our mentorship will build character and integrity within them to triumph in their studies and life. To the students, not everyone that you join class one with will enter secondary school and not everyone who joins high school with you will transition to university. Please beware of the company you keep," said Bishop Oginde.
The scholarship program gives priority to orphans, single parents and children in homes where one or both parents are living with HIV. The grant comes as a great relief to the families as many Kenyans are at a crossroads over the soaring cost of living compounded by the rising oil prices and weakening shilling.
Read: 100 Youth Receive Ksh5 Million Worth Of Scholarships To Learn Digital Skills
>>> Family Group Foundation Commits Ksh30M to Scholarships for Needy Students