Diamond Trust Bank (DTB) has announced that it will advance at least KSh1.6 billion to Micro, Small, and Medium Enterprises (MSMEs) this year to aid in Covid-19 recovery.
DTB Board Chairman Linus Gitahi said the bank would place particular emphasis on MSMEs that are led by women.
"We all know that the pandemic had a terrible impact on our lives and livelihoods. Small and Medium-sized Enterprises (MSMEs) felt the brunt of the pandemic-induced harsh economic conditions that characterized much of 2020.
"The National Treasury selected DTB as one of the participating banks to provide access to financing for Kenyan MSMEs under the Credit Guarantee Scheme," said Mr. Gitahi.
On his part, DTB Head of Branches and Alternate Channels George Otiende noted that DTB expected to advance the bulk of the funding, KSh1.2 billion, by June this year.
"Of the KSh1.6 billion that was allocated to DTB, 30% should go to women, youth, and persons living with a disability. We're calling upon registered businesses across all sectors, for any financing needs including working capital, term loans, or asset financing to take advantage of the facility," he added.
Otiende said this would be in addition to other measures taken to help businesses get back on their feet by replenishing their working capital, aiding the acquisition of business assets, and recovery from the impact of the Covid-19 pandemic.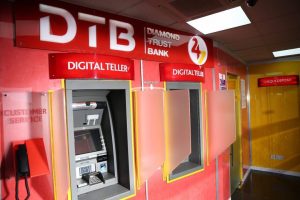 This was revealed at a breakfast meeting hosted by the bank to celebrate its women-owned managed – MSME customers. DTB held the meeting as part of its efforts to deepen financial literacy and business acumen among its women-led MSME customers.
READ>>>>>Absa Plots Ksh1.6B Tech Investment as Bank Celebrates One Year in Kenya
The guest speakers at the event were Qhala CEO Dr. Shikoh Gitau, Honeycomb Jewellery founder Nafisa Rayani, and Julie Gichuru, the Head of Public Affairs and Communication at the Mastercard Foundation.
Drawing from lessons learned from their careers, the guest speakers urged the entrepreneurs to learn to adapt to change and to re-engineer their businesses to take advantage of new trends and habits, such as the digital age.
Dr. Gitau asked entrepreneurs to digitize and digitalize their businesses.
"They sound very alike. There is a digitization and there is digitalization. The first one is very simple because you convert your forms and other records into digital formats. Digitalization is turning your business into something digital. It means you are moving your business from brick and mortar into something digital," said Dr. Gitau.
Drawing from her experiences right from school through to several changes in her career, Mrs. Gichuru urged the entrepreneurs to be humble and learn to adapt and understand changes in communication.
"The ability to be humble and accept that we don't know everything is one of the most powerful things in the world, and it's what will drive success from failure," said Mrs. Gichuru.
READ>>>>>Credit Bank Named Top Tier III Lender