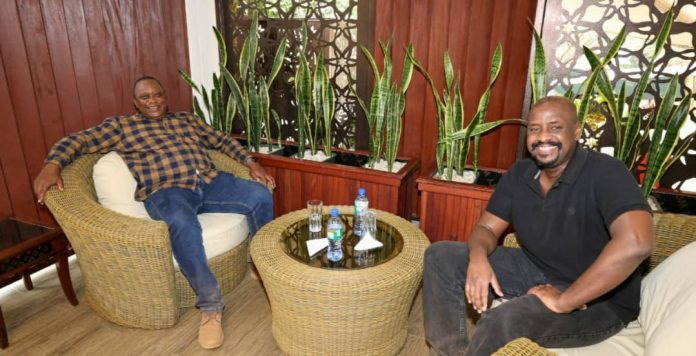 Uganda's first son, Lt. Gen Muhoozi Kainerugaba isn't your typical military leader. While many commanders are averse to social media, he is a ball of life on Twitter, where he rattles off a range of random thoughts.
It is in Uganda where he usually makes headlines, but Muhoozi has in the past few days been the subject of numerous conversations among Kenyans online.
He is a close friend of President Uhuru Kenyatta and has been spotted with the Kenyan leader on a number of occasions. Most recently, it was at the Naivasha Inland Container Depot on January 14 to witness the trans-shipment of container cargo from the SGR to the meter gauge railway (MGR) for onward transportation to Malaba, at the Kenya-Uganda border.
Championing East African integration, he posted on January 13: "I thank my great big brother, President Uhuru Kenyatta, for inviting me to my second home Kenya, to join him in the inauguration of the Inland Container Depot in Naivasha. A strong East Africa is the only way to go!
But it was his tweet three days later that really got Kenyans talking. An older photo of him with Uhuru was posted alongside the caption: "Anyone who thinks they can break the bond between Uganda and Kenya should first go ask Jesus Christ for forgiveness! God bless Uganda and Kenya!!"
The tin-foil hats were out as Kenyans began trying to find ties between the General and geo-political chess moves being made in the region. Deputy President William Ruto, a 2022 Presidential candidate has been perceived as being close to Ugandan President Museveni due to their past meetings.
Somewhere in between the two tweets, Muhoozi had shared: "My big brother, His Excellency President Uhuru Kenyatta, is one of the greatest Presidents Africa has ever had. He is intelligent, humble and extremely charming. Long live President Uhuru!!"
Muhoozi is thought of as a potential successor to his father as President of Uganda.
Commenting on the General's Twitter activity, top Nairobi lawyer Ahmednasir Abdullahi wrote: "Decided to follow GENERAL @mkainerugaba…find the tweets kidogo eccentric for a GENERAL but isn't he Uganda's next President?"
The transshipment of cargo to Uganda has itself gotten off to a shaky start, with Uganda protesting Kenya Railways Corporation's (KRC) decision to offload 40 containers destined for Kampala at the Kenyan side of the Malaba border. The Uganda Railways Corporation (URC) raised complaints on disregard for transit railway cargo operation norms.
Many of the trailers remained stuck with traders left to figure out last-mile logistics.
Amid the drama, China Foreign Minister Wang Yi was in Nairobi on a visit last week pushing for the Mombasa-Nairobi SGR to be extended to Uganda, Rwanda, South Sudan, and eventually to the Democratic Republic of Congo.
It is part of a larger proposal from China  to extend Kenya's SGR and the Ethiopia-Djibouti line into Uganda and Eritrea respectively and to develop ports on the Red Sea and the Indian Ocean at Mombasa port.