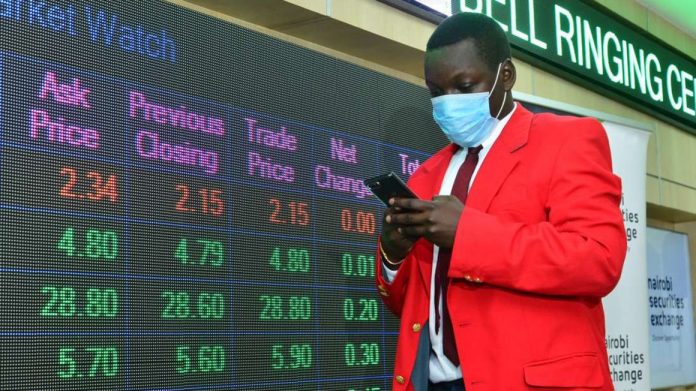 Market data from the Nairobi Securities Exchange (NSE) shows that net foreign outflows fell from Ksh21.4 billion in the six months to June 2020 to Ksh5.03 billion in the six months to June 2021, signaling growing investor confidence as the economy slowly bounces back from the shocks of the p******c.
The onset of the p******c in 2020 saw many foreign investors flee emerging markets including Kenya, preferring to put their money in more developed markets.
This drove down share valuations at the bourse, which fell after the first case of Covid-19 in Kenya was confirmed in March, with the trend continuing through 2020. The NSE 20 Share Index – a price weighted index calculated as a mean of the top 20 best performing counters – fell by 29.6 per cent in 2020.
Market capitalization fell by a whooping Ksh167 billion over the same period.
In the first six months of 2021, however, the NSE 20 Share Index is up 3.2 per cent. Blue chip stocks such as Safaricom have hit higher share prices, driving the improved performance.
Safaricom stock has gained 21% in six months, while Equity Bank has gained 22.4%. EABL and KCB recorded price gains of 17.2 percent and 11.9 percent respectively over the same period.
The blue chip stocks including Safaricom, KCB, Equity, EABL and BAT are preferred by the majority of foreigners investing at the NSE. Together, they represent 78 per cent of the NSE's total market capitalization.
Notably, they benefit from their appearance on leading emerging markets indices used to measure the financial performance of companies in fast-growing economies around the world.
At the same time, however, the continued dominance of a few counters at the NSE has been responsible for concerns on market concentration.
The situation has made it difficult to gauge the true performance of the market – as the performance of a few counters determines the overall performance.