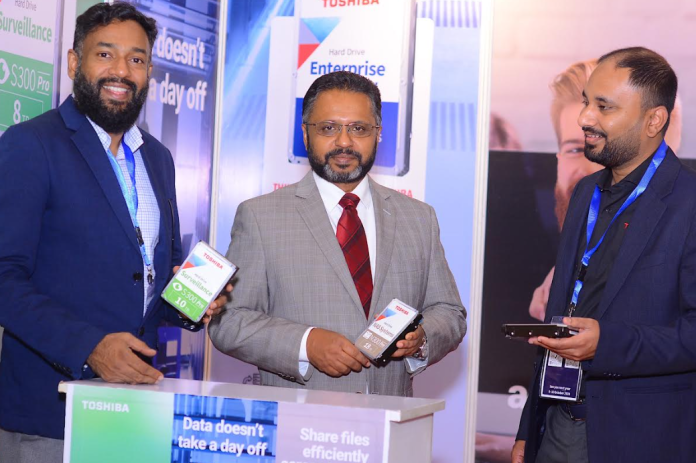 Japanese conglomerate Toshiba has entered into a partnership with Mitsumi Group, one of the leading IT powerhouse in the Middle East and Africa in a move that will see Toshiba launch their BYODC (Build your own Data Centre) initiative that will enhance cloud data centres in the region.
Santosh Varghese, Vice President of Toshiba Gulf FZE who is spearheading the BYODC initiative says, it is a unique concept that Toshiba plans to roll out across all its regional markets where businesses will be able to build their data centres incorporating hardware(server), software and storage with an ability to scale up storage capacity depending on demand.
Varghese said Toshiba offers a complete 360 -range of storage products from personal/client hard drives, Enterprise Hard drives for Cloud and Data Centre Storage and Surveillance Storage for CCTV cameras where pictures are recorded and stored.
He said the biggest revolution happening is in cloud storage where both private and public, hybrid cloud data centres storage is gaining momentum, particularly after the Covid-19 pandemic.
He said this technology had enabled people and businesses to be more resilient and bounce back on track quite fast.
The Toshiba boss who was speaking on the sidelines of the ongoing security conference at Sarit Centre – Nairobi said research shows 166 Zeta Bytes of data will be produced globally and these data not only needs to be stored but also analyzed by business for intelligent business analytics and decision-making business are now gearing up to push cloud data center storage technology in Kenya by being early adopters of the technologies. Almost 62% of the businesses in the region will adopt cloud storage data centres. 40% will be Private cloud, 18% will be hybrid (Pvt +Public) and 4% will be public cloud
Jagat Shah, Chairman of Mitsumi Group said "The BYODC is a great initiative to empower the leading business sectors in Africa with cost-effective and efficient data storage solutions."
"We are looking at a market potential of more than $2 billion in this region for data centers projects in the next 3 -4 years in Kenya. A number of organizations and other vendors are setting their data centre storage in Kenya and private players to tab into the market," he added.
Varghese said Toshiba currently offers a storage capacity of up to 20 TB and will scale to 40TB by 2026 this is possible because of the new helium technology which is used in the MG series enterprise drives. Toshiba is the pioneer of Helium drive technology. This results in higher energy efficiency and a thinner desk empowering it to work more efficiently in a 24/7X365 Environment.
The BYODC will be a complete ecosystem where channel partners and system integrators will be trained on how to use and integrate different technologies to build data centre projects across Africa, which also create more technical job opportunities across the region. This project would be enriching the banking, finance, logistics and Ecommerce sector giving them more secure data storage solutions within the region.
He said a lot of incentives will be going to be rolled out with business partners, particularly the Mitsumi group, where more knowledge will be shared on how to promote and build own data centres and come up with full-fledged solutions in the East African region for phase one.
This comes at a time when the government enacted a data protection act to safeguard and protect people's and companies' data.
Read: Business Requirements Forcing CIOs To Hybridize Data Centres, Schneider Electric White Paper Reveals
>>> How Data Centres At The Network Edge Can Support The Next Evolution Of Telcos In Africa