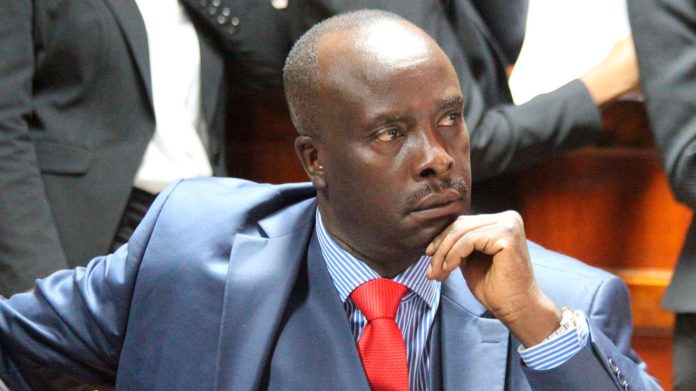 Danstan Omari is one of Kenya's high-profile lawyers, often representing politicians and prominent individuals including former Chief Justice David Maraga and the late Tob Cohen and his family. In recent weeks, his representation of former Interior Cabinet Secretary Fred Matiang'i has thrust Omari into the public eye.
Matiang'i has been the subject of a probe by the Directorate of Criminal Investigations (DCI) even as the former CS maintains that the President William Ruto-led administration is on a revenge mission against perceived political enemies from the previous, Uhuru Kenyatta-led administration.
But long before he was always in front of the cameras at odd hours during alleged police raids, Omari was a high school teacher, hotel manager, matatu operator and children's officer. The 66-year old only got into law school at the age of 40.
Omari was born in Nyabite, Nyamira county and attended Nyamira primary school where he did his CPE in 1977. He proceeded to Ruiru secondary school where he undertook his national exams but, according to Omari, he "could only score division three, equivalent to C minus (in KCSE) today". He opted to repeat the final year at Kiabonyoru High School, where he notably met one of his clients for the first time, one Fred Matiang'i.
He did his Form Five and Six at Muguga High School, and was admitted to Kenyatta University to study Bachelor of Education despite his preference having been law. Although he wanted to repeat a year yet again, Omari was convinced by guardians to proceed to study education, marking the beginning of his stint as a teacher.
After secondary school, he began teaching at Ntana Mixed Secondary School for one term, before heading back to his former school Kiabonyoru and subsequently joining the National Youth Service (NYS). Omari then proceeded to Kenyatta University to secure his degree.
READ>Meet Ghanaian Mogul Behind Kiss, Classic, Radio Jambo & More
He was posted by the Teachers Service Commission  (TSC) to a school in Bomet County while still a student, but he turned it down.
"I went there, the headteacher was a Form Four dropout, they had around 15 students, he was the only teacher, and I was the first government teacher. I just looked at him and said I would never come back," Omari recalls. This led to the TSC interdicting him for the first time, as he maintained that under no circumstances would he take the job.
Omari found his way back to went back to Kiabonyoru as a Board of Governors-appointed teacher. After two years, he was reinstated by the TSC and posted to the same school and soon rose up to the rank of deputy headteacher. He was accused of angling for the headteacher job and allegedly inciting students to strike, leading to his second interdiction by the TSC.
This forced him to branch out and find a new job, and he chanced on a newspaper ad looking for a hotel manager in Nairobi, a job he landed, earning him Ksh15,000 a month. He soon landed another job at a different Nairobi club earning him Ksh35,000 a month.
Meanwhile, he had been fighting his interdiction by TSC and won the case after four years. He was reinstated and posted to South Mugirango. He was also paid Ksh800,000 for the time he was interdicted which, according to Omari, he invested in four matatus. He requested a transfer to Nairobi and was posted to a school in Kiambu.
It wasn't until 2004, at age 40, that Omari was admitted to study law at the University of Nairobi. He took a sacco loan, operated his matatu business and got support from his wife, whom he had helped take through university, to pay the tuition fees.
While still studying, he applied for a job as a Children's officer and was got it, but was posted to Kirinyaga. This meant that for the next six years, at the University of Nairobi and later the Kenya School of Law, he would commute between Kirinyaga and Nairobi on a daily basis. He graduated in 2008 with his Bachelors, before heading to the Kenya School of Law. He also applied to a UoN masters program.
"In January 2009, I enrolled in the Kenya School of Law which is further at Karen. So I still drive to Kirinyaga, classes start at 2 pm. So I must be in Kirinyaga at 6 am and leave by 11 pm. By 11 am, I had cleared my work. I never missed a class. Around June of the same year, the University of Nairobi advertised for masters programs, and I applied. I have to get to the School of Law at 2 pm and at 5:30 pm I must be at the University of Nairobi for master classes. At 6 am I was at Kirinyaga," he recalled in one interview.
He was admitted as an advocate in November 2011 and graduated with a Masters degree in Law that December. Despite his seniors advising him to continue working as a children's officer for only three more years to hit the age of 50 and unlock retirement benefits, Omari quit the job and jumped into the law headfirst.
He would cut a niche for himself by representing individuals including prominent figures in child support cases, and eventually, became a familiar face representing politicans and businessmen in all sorts of matters.
NEXT READ>Joho's International Transport Business Worth Billions