[ Some of the images used in this article can be disturbing. Reader discretion, is therefore, is advised ]
Caroline Kangogo, the fugitive police officer wanted for two murders, has reportedly committed suicide in her parent's home in Nyawa, Elgeyo Marakwet, in what is being seen the beginning of  cover-up of the story surrounding the cop. Rift Valley Regional Police Commissioner George Natembeya confirmed the bizarre end to the story of the suspected killer policewoman who made headlines after being linked to the killing of two men and eluding police dragnets.
Corporal Kangogo, according to Natembeya, shot herself in the head inside her mother's bathroom. "Amejiua asubuhi ya leo, alionekana asubuhi hivi, aliingia kwa zile bathroom za nje akajipiga risasi (She killed herself today morning. She was seen in the morning entering the bathroom where she shot herself," Commissioner Natembeya said.
Cpl Caroline Kangogo is dead from an alleged suicide. This should not bring a closure to investigations as to who killed the two men associated with her. We might never know her side of the story! In the complex world of crime, there could be a third force!!

— Sen.Moses Wetang'ula (@Wetangulam) July 16, 2021
Many will be waiting for the autopsy report to confirm whether indeed it is the body of Caroline Kangogo and whether she really shot herself. In another photo circulating on social media, a similar person (wearing same attire as the suicide body) is seen walking in the streets of what social media users say is her home town of Iten earlier today.
If Caroline Kangogo was being trailed and finally sighted, why was she not arrested?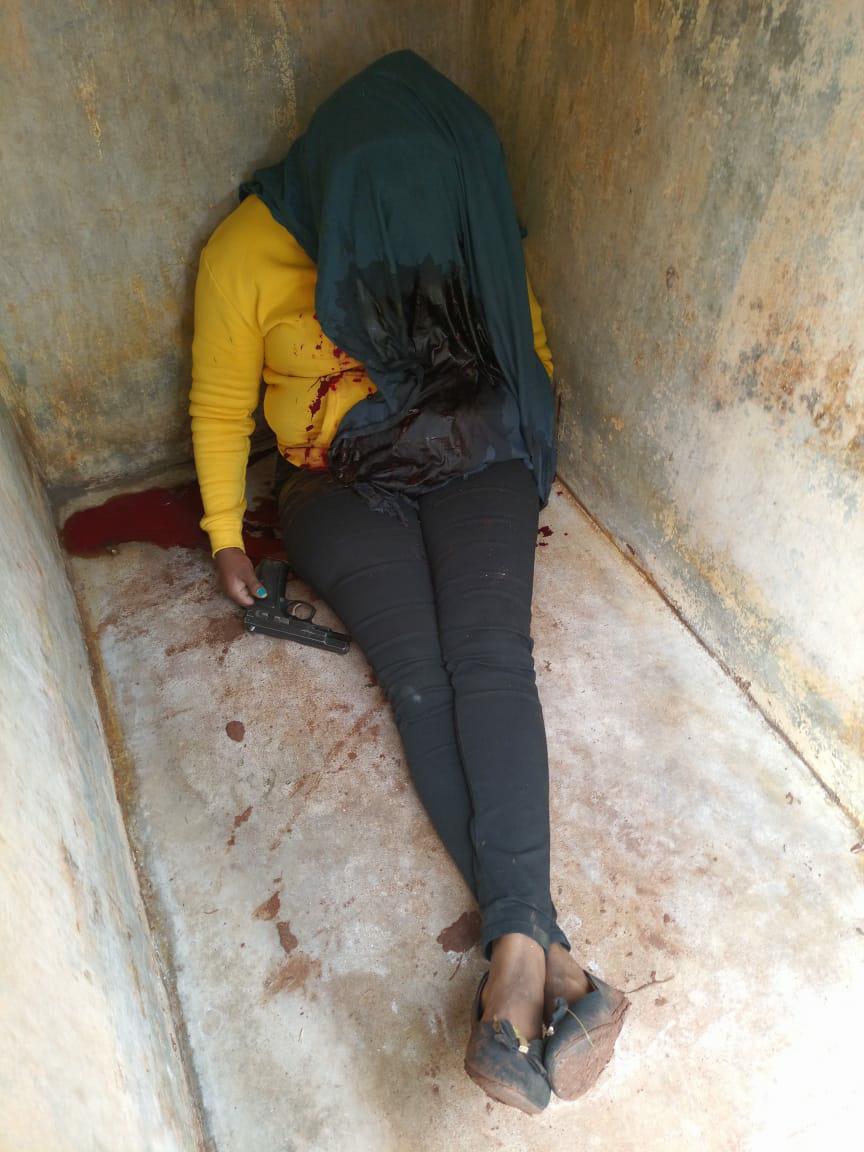 The way her body is positioned in the photos has raised questions on the suicide theory given, for example, her legs remained comfortably crossed while her fingers were still holding the gun, with blood spilling all over the crime scene.
The picture of the scene where the fugitive cop allegedly shot herself is too neat – crossed legs like she was watching tv, gun next to her hand ….. wacha tu

— Sen Mutula KilonzoJR (@SenMutula) July 16, 2021
Police officers alerted of the matter rushed to her home where a gun believed to have been used in the murder of two men in Nakuru and Kiambu counties was recovered. According to reports, she was seen getting into her parent's home early Friday. It is not clear whether she managed to speak to any of her family members before killing herself.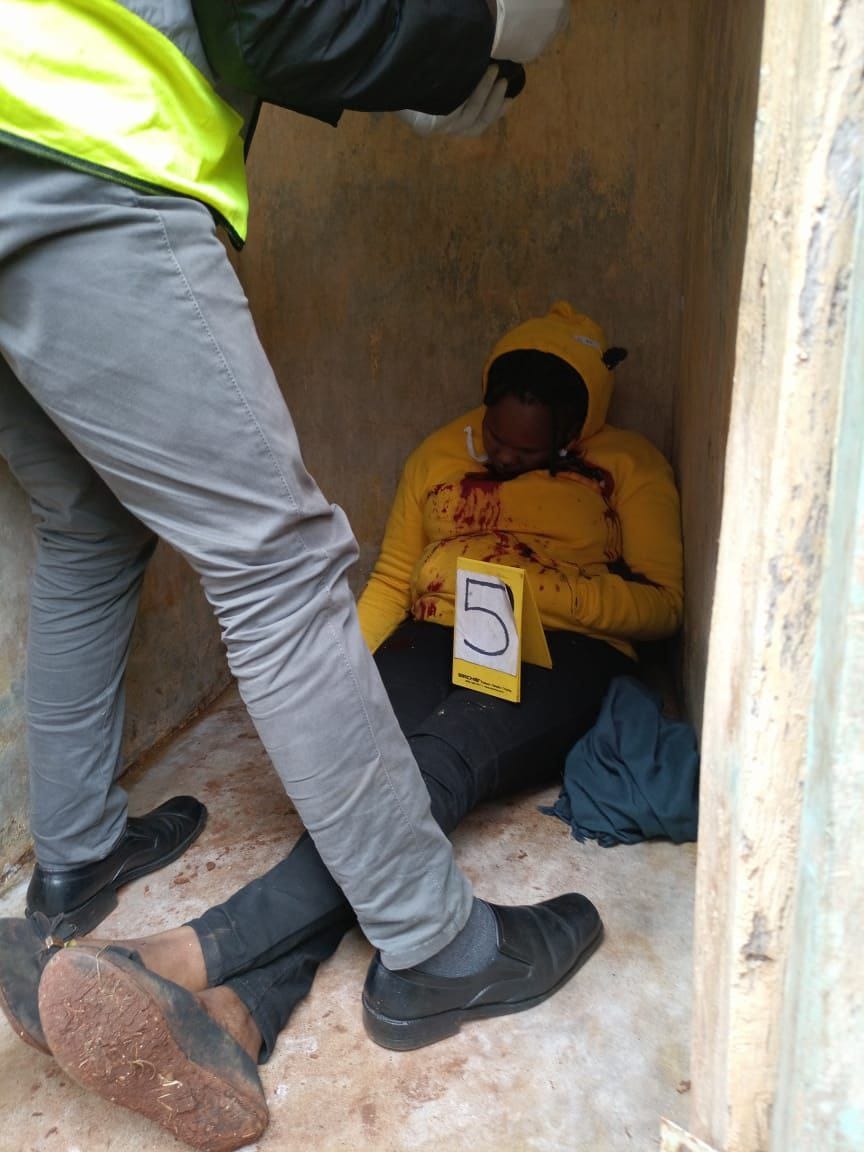 A photo circulated on social media shows a woman believed to be Kangogo dressed in a pair of black trousers, a mustard sweater, and a black veil covering her face in a sitting position at the corner of the bathroom with traces of blood on the floor of what police say is her parents' bathroom.
What police say is her lifeless body is seated with legs are crossed, with her left hand clutching to a pistol. Detectives believed she had traversed at least six counties since committing the crimes, managing to stay on the loose with a contingent of security agents hot at her tail.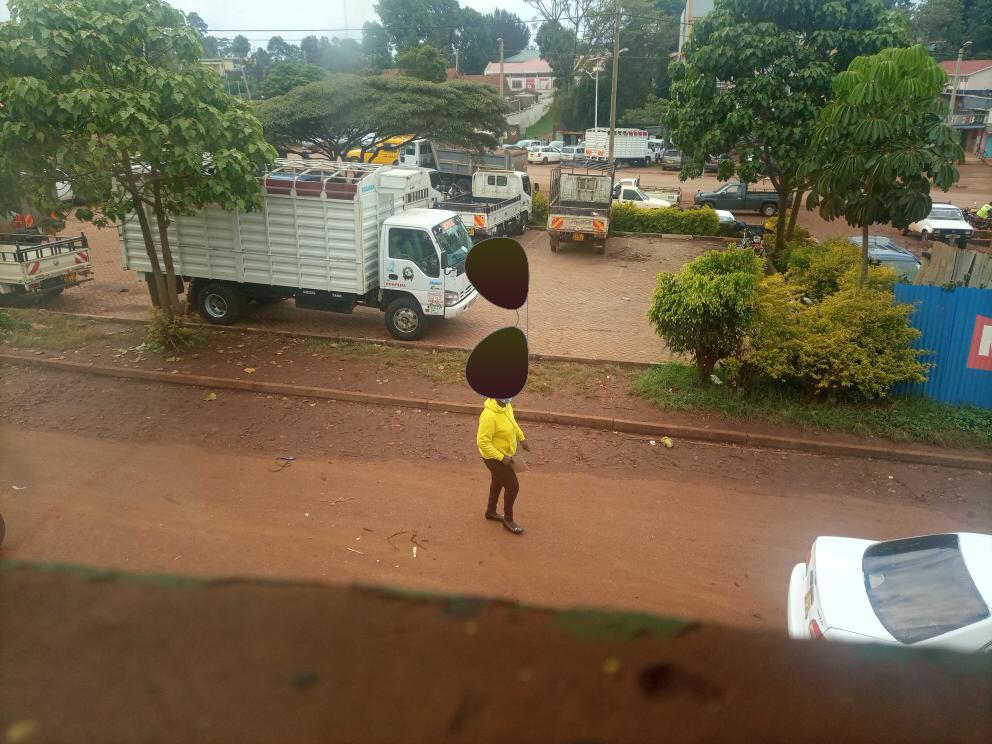 Her most recent sightings were in Eldoret on Thursday, and later in Kericho where her phone signal was picked; it is suspected that she used someone else's phone to call her friend while on a PSV vehicle.
Detectives also believe she travelled to Kisii targeting her next victim; a doctor. Her phone signal had also been traced to Iten in Elgeyo Marakwet where she hails from.
A profile of a sharp cop
Corporal Caroline Kangogo was being sought over the murder of her colleague Constable John Ogweno and businessman Peter Njiru Ndwiga. The death of Kangogo ends a two-week search for the police officer who had evaded an elite unit crafted by the Directorate of Criminal Investigation to hunt her down.
On July 6, the DCI declared Kangogo a person of interest and began a search for her. The DCI declared Kangogo "armed and lethal".
This one looks like Caroline Kangogo hours before she died. Who took this photo? Where was it taken? Did he/she report? Could this be Eldoret or Iten! RIP pic.twitter.com/BOPQxmjp4m

— Abuga Makori EGH, MBE (@abuga_makori) July 16, 2021
Kangogo was born in Nyawa, Tambach in and former Keiyo district to Barnaba Kipkoech Korir and Leah Jepkosgei. She attended Nyawa Boarding Primary School and joined St Francis Secondary School and later St Alphonsus Mutei Girls Secondary School, before joining the Kenya Police College in Kiganjo between 2008 and 2009 for her initial training.
While at Kiganjo, she obtained a First Class in Shooting Range Qualification. She went for a Corporal Course at the Kenya Police College in Kiganjo in 2014. Cpl Kangogo is married to Commissioner of Police Richard Kipkirui Ngeno, with whom she has two children.
Caroline Kangogo was part of rogue officers involved robberies and extortion.
It's likely she was told that if she betrays the syndicate, they will murder her parents and kids. Witness protection in Kenya is a hoax. ICC witnesses were betrayed & murdered! https://t.co/XeTM7yJxco

— Boniface Mwangi (@bonifacemwangi) July 16, 2021
She had served at the Police Training College in Mombasa, the Kaloleni Police Station, Kenya Police College and Central Police Station in Nakuru. She was attached to the Nakuru Law Courts as a court orderly.
Her death comes just days after the Law Society of Kenya appointed veteran lawyer Dr John Khaminwa to handle her case.