Winnie Wangui Kamau, a member of the Njabini women football club was pictured on Monday, March 8 breastfeeding her child during a half-time break in a match she was playing.
The 23-year-old single mother from Nyandarua County has captured the attention of the country with her action.
The tournament was organized by Nyandarua Women Representative Faith Gitau to mark the International Women's Day celebrations last Monday.
Winnie was breastfeeding her baby in the middle of a football match pitting her club against Karangatha women FC, at Njabini stadium.
She didn't seem to care much about the onlookers and she did not wait for a private moment at a secluded corner to attend to her baby.
The photo that has trended on social media platforms shows the young Winnie cuddling her baby while standing as her teammates relax on the pitch, waiting for the second half to kick off.
READ>>>>>Google's Ksh2.7 Billion Plan to Empower African Women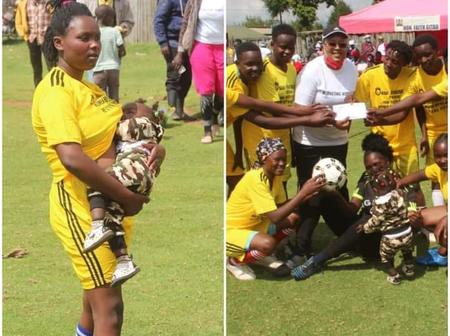 The half-time break is usually 15 minutes and is meant to give the players some time to rest to replenish their energy, but for Winnie Wangui who plays as an attacking midfielder, it was time to feed her one-year-old baby in the open field.
After the break, the single mother went on to play the entire 90 mins, where her team won the game.
According to Carol Radull, a journalist and football commentator, the player chose to multitask between playing for her football club and giving motherly love to her babe.
"The multi-tasking showed her mothering ability and love for football!! May the almighty make this her breakthrough," wrote Ms. Radull on her Facebook page.
Ms. Radull said she had spoken to Winnie who revealed that she lives with her grandmother after her would-be husband and the father of her child took off.
Carol also revealed that when not training with her team 'Morvel Dadas' Winnie sells Safaricom airtime at Njabini Shopping Centre to make ends meet.
"I hope to visit her soon with officials from Football Kenya. And yes women do this every day – major multitasking – and therefore deserve to be celebrated every day" she wrote.
Carol noted that women do major multitasking every day and they deserve to be celebrated every day.
From her smiling face, it was evident that playing football not only helps keep her fit but happy too.
Most online readers were in agreement that men cannot combine such demanding roles at the same time.
"Very impressive! She deserves to be assisted where possible to achieve her dreams and aspirations. Those men yapping let them try and multitask then they'll understand why God gave that gift to Women" wrote Raymond Kipchumba.
Companies such as Bonfire Adventures have come out to offer support for Winnie.
"This is what we call bidii. Looking for this lady Winnie. She had to feed her kid during halftime. Ako wapi? we have her present" wrote Bonfire on social media.
READ>>>>>How Coca-Cola Empowered Over 6 Million Women Entrepreneurs