State House winner faces mixed economic bag
A decision on whether to remove capping of the interest rates will be among the priorities as well as jump-starting growth in agriculture, managing national debt and how to handle expected oil exports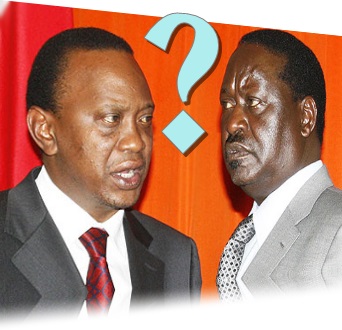 Whoever wins Kenya presidential ticket in this year's elections will face economic opportunities and challenges that if well harnessed, may take the country closer to its dream of becoming a middle-income country by 2030, analysts told Xinhua.
A decision on whether to remove capping of the interest rates will be among the priorities as well as jump-starting growth in agriculture, managing national debt and how to handle expected oil exports.
Rate Cap
Kenya capped interest rates on bank loans to 14 percent last year following a public outcry over high rates charged by banks that averaged 18 percent, sparking credit squeeze to the private sector.
Lack of cash flow especially for micro and small businesses and also reduced lending of personal loans has been the main result of capping as banks run away from borrowers considered high risk.
At least a dozen banks have petitioned the Central Bank of Kenya (CBK) to review the capping. On the surface, low cash flow has limited expansion of micro and small businesses and therefore slowed new employment.
Equity Bank CEO James Mwangi told Xinhua in a recent interview that the capping of the interest rates has been the biggest drawback for banks.
"The rates were caped yet the CBK lending rate at 10 percent did not change. This has become a significant industry challenge. As a result, the value of banking stocks at the Nairobi Securities Exchange has dropped by an average of 30 percent," he said.
Interest rate capping has also affected profitability of the industry which has come from a high of 26 percent in 2014, to 5 percent in 2015 and negative 4 percent in 2016.
"Capping was like pricing all risks the same meaning that banks are afraid to lend to small businesses that carry higher risk," he said.
The government is rated to have a risk of 0 percent (zero), blue-chip companies at 0.2 percent and large enterprises at 0.5 percent.
Small, medium and micro enterprises have risk ratings ranging from 1 percent to 3 percent meaning they are now being staved off credit by banks.
"What capping of the rates meant is that the market mechanism is not working in Kenya. That is why we have companies like East Africa Breweries which has issued a commercial paper and based on the interest, they are ready to borrow higher than the 14 percent market rates," said Mwangi. He called on the government to rethink the issue of capping.Kenya suffered severe drought earlier this year that made worse growth of agriculture whose growth had decelerated in 2016.
Economic Survey for 2017 indicates that growth in agriculture value added decelerated from a revised 7.2 per cent in 2015 to 4.4 per cent in 2016 occasioned by insufficient rains.
Most affected was Kenya's staple crop maize whose production declined from 42.5 million bags in 2015 to 37.1 million bags in 2016.
The winner of the poll may borrow from the recommendations by state-funded think tank Kenya Institute for Public Policy Research and Analysis (KIPPRA), whose recent brief to the government called on training of farmers on technology-led appropriate farming methods to improve food security.
The growing effects of climate change that has affected rain patterns means that there is also need to increase investments in small and large scale irrigation systems.
KIPPRA also recommended solutions to reduce post-harvest losses that are estimated to be 20-30 percent of the harvested crop.
Additionally, the winner of presidential poll will need to address the collapsing sugar industry, which is blamed on several factors among them poor choice of cane grown by farmers and failure to modernize and privatize various state-owned sugar factories.
Sugar growing is the key driver of western Kenya's economy.
Interventions such as last week's State deal with a local bank to extend credit to small scale farmers will help. Kenya's agriculture is dominated by small scale farmers owning an average of two acres of land, according to government data.
The deal, between the government and Equity Bank will see the bank loan 3 million U.S. dollars to small scale farmers.
"This new credit guarantee scheme will enable small scale farmers' access funds to cater for critical inputs like seeds, fertilizers and pesticides," said Cabinet Secretary for Agriculture, Livestock and Fisheries Willy Bett.
Plastics ban
Starting end of this month, Kenya will ban manufacture and use of plastic bags because they are blamed for environmental degradation.
The ban is bound to affect the manufacturing sector and may result in loss of jobs and income for thousands of traders.
The National Environmental Management Agency (NEMA) has maintained that the ban will not be reversed despite protests by Kenya Association of Manufacturers (KAM) including a petition to President Uhuru Kenyatta to intervene.
"Currently, we have over 176 plastic manufacturing companies in Kenya which directly employ 2.89 percent of all Kenyan employees and indirectly employ over 60,000 people," said KAM CEO Phyllis Wakiaga.
The Kenya Economic Survey for 2017 shows that the real output of the manufacturing sector grew by 3.5 per cent in 2016 compared to a revised growth of 3.6 per cent in 2015.
The growth was as a result of reduced cost of production and increased volume output.
The matter is unlikely to come to rest and will form a priority agenda for the person who wins the Tuesday presidential election.
National debt 
Kenya has borrowed heavily in the past 15 years to finance mega infrastructure projects that are laying its foundation to transition to a middle income country.
The latest mega project is the 480 kilometer Standard Gauge Railway from Mombasa to Nairobi that is set to revolutionize Kenya transport sector.
KIPPRA data shows that the debt to gross domestic product (GDP) ratio is now at 54 percent, surpassing the 50 percent ceiling set by the East Africa Community.
"The high level of public debt in Kenya narrows the window for future borrowing, and increases vulnerability to fiscal risk in the event of any urgent need for borrowing," notes KIPPRA in the just released Kenya Economic Report 2017.
But the National Treasury says borrowing should not raise alarm as the debt is manageable, a statement supported by the International Monetary Fund which in March said that Kenya's risk of external debt distress remains low, while overall public debt dynamics are sustainable.
"The bulk of Kenya's external public debt carries concessional terms," the IMF, while calling for a go slow on commercial borrowing. The debt issue will be a priority in the next presidency.
As plastics are phased out, sisal is cool again
Last week, Agriculture, Livestock and Fisheries Cabinet Secretary Willy Bett opened a new sisal factory at Nyatike in Migori County which will help in revamping the industry
The ban of plastic bags will negatively affect livelihoods as there are over 170 plastic manufacturing companies in the country which directly employs around 3% and over 60,000 people indirectly, according to the Kenya Association of Manufacturers.
The Government decided to ban the use of plastic bags to promote health and prevent environmental effects resulting from the use of plastic bags.
Some of the hazards from plastic bags include blocked sewers lines, damaged ecosystems and biodiversity, pollution of coastal and marine environment, death of  terrestrial animals after consuming plastic material, emission of poisonous gaseous when used as fuel  to light charcoal and the obvious air pollution when the plastics are burned in open air
The ban will see the government invest in reviving the sisal industry. Kenya is rated among the top producers of sisal globally and currently is in position one and three globally in terms of quality and production respectively.
The country is currently producing 23,000 metric tonnes of sisal annually and it is the third largest producer in the world after Brazil and Tanzania. To boost production, the government is encouraging private sector actors to set up facilities for processing and enhancing value addition.
For Elisha Okoth and Adoyo Okoyo, small scale sisal farmers at Karungu area in Migori County, for close to 40 years, they have been depending on sisal as the main economic mainstay.
They say that in the 1970s and 1980s, sisal was performing well in the area despite the farmers using the crop as fence for their farms.
"We have been planting sisal in small portions for subdividing our land or fencing purposes. During that time, sisals market was good with farmers earning high proceeds," says Okoth.
But the trend changed in mid 1980s and early 1990s when farmers abandoned sisal farming owing to price manipulation among other unethical business practices by middlemen.
New sisal factory
Okoth, who is the chairman of Otaiti Fibre Crop Growers and Sisal Owners Group in Nyatike area of Migori, says if sisal production is revived, it will provide employment to many youth who are educated but are idle and thus tame poverty.
Last week, Agriculture, Livestock and Fisheries Cabinet Secretary Willy Bett opened a new sisal factory at Nyatike in Migori County which will help in revamping the industry.
Al Naqel Holdings Limited is owned by investors from Egypt and local partners.
SEE ALSO: Thousands of jobs at stake as Kenya finally bans plastic bags
"The new factory is part of the far reaching strategies the national government is undertaking to revive the sisal industry in Kenya. Based on the fact that large scale farming is not expanding, our focus is to woo small holder farmers. If well harnessed, sisal farming can help in taming the high poverty levels and high unemployment rate in addition to increasing revenue to both farmers and the government," said Bett.
In an interview after opening the new sisal factory, the CS said the Governments will focus on encouraging small scale farmers to embrace production and return sisal back to its glorious days of 1972 when it was second foreign exchange earner after coffee.
"Even though Kenya is position one and three globally in terms of quality and production, the industry is largely dominated by large scale farmers and currently they are not expanding area under sisal.  The Government will facilitate investors interested in placing their wealth in the sisal industry," Bett said.
Bett said the quality of Kenya's sisal has been used mainly in the manufacture of high quality and premium products including carpets, specialty paper and gypsum blocks among others.
"The world market for our sisal is hitting the roof and the government is now promoting the production to the small-scale farmers," noted the CS.
"We want to shift from the estate type model and make sisal production one of the key revenue generators for our people," said Bett, noting that the government is also encouraging small cottage industry in sisal production in order to utilize the waste into useful by products.
Bett noted that Kenya is only able to utilise four percent of the sisal while 96 percent goes to waste, adding that there is need to ensure 100 percent utilization which will in the long run trickle down to the farmers.
For  Okoth and Adoyo, putting up the factory has made them think of not only concentrating more on sisal production but has also opening up their lands in a partnership with the Al Naqel holdings company that will see them  grow more sisal and the company buying from them directly.
"In 1979 when I got married here, I found people making ropes from sisal using some handmade machines. We used to sell the ropes in the local market at Sh5 and we have continued with this business until now that this this factory has been established.  It has opened up our eyes and we now know we can fetch much more money from sisal," says Adoyo.
Through the agreement, she explains that the company will provide them with quality seeds once they have prepared land and in turn also come and buy from them directly. This she says will deter middlemen who have been taking advantage of them.
"I intend to expand the area under sisal to about 10 acres and believe that this deal will ensure I meet all my family's obligations from educating my children, constructing a better house and also putting food on the table,"Adoyo says.
Okoth in turn says that the sisal factory has created awareness on the economic benefits of sisal farming in the community and that farmers will now be able to grow sisal and inter-crop with other crops to ensure food security.
Foreign exchange
Agriculture and Food Authority (AFA) Interim Director General Alfred Busolo says sisal industry in 1972 was second in the country in terms of foreign exchange earnings after coffee and that the only research centre –Thika High Level Sisal research station was lost in 1972 when demand for sisal and the world price dipped.
"Due to the various problems facing the sisal industry, there has been lack of reinvestment and market development, products and market development and promotion, contributing to the decline of the industry," says Busolo.
Despite the hiccups, Busolo says  currently the area under sisal stand at 44,000ha with small holder farmers scattered all over the arid and semi-arid areas and mainly along the boundaries  controlling 22.7  percent and the rest being  largely under the control of 10 sisal estates in the Coast, Eastern and Rift Valley regions.
Fibre Crops Directorate interim head Anthony Mureithi says that their focus is to encourage small holder farmers to venture into sisal farming with a view to increasing national production by 30 percent in the next five years and boosting incomes both to the Government and farmers.
A report by Agro Processor International says that the sisal industry in Kenya started way back in 1907 when the first sisal plantation was established at Punda Milia near Thika. By 1914, the sisal industry had been firmly established in Kenya as a cash crop and the first 42 tonnes of sisal fibre from Kenya was exported to Europe the same year.
According to the 2015 Economic Review of Agriculture, the total sisal production decreased by 2.5 percent to 25,341 tons in 2014 from 25,983 tons recorded in 2013. Domestic consumption of sisal fiber more than doubled form 750 tons in 2013 to 1737 tons in 2014, this was due to an increasing demand for sisal bags for packaging. In addition, 91 percent of total production was exported in 2014.
Big banks squeeze small borrowers with high fees
Big banks like Equity Bank, Kenya Commercial Bank and Barclays Bank are the most expensive, with their interest rates ranging from 17% to 21%
Despite a cap in interest rates, Kenyan banks are charging between 14 and 21%, with the rates being pushed up by their fees, latest industry data showed Monday.
The cost of credit in Kenya remains high despite the introduction of a law to cap commercial banks' interest at four percent above the Central Bank Rate (CBR).
The law, which came into force in September last year, was expected to make credit affordable especially to small businesses.
The CBR currently stands at 10%, which means interest rates should not be higher than 14%.
The result is that Kenyans are not accessing cheaper credit as expected, even as banks tighten their purses and channel funds to the government through Treasury bills and bonds.
For personal secured loans, the lenders are charging between 14% and 21%, according to the data from the Kenya Bankers Association.
Big banks like Equity Bank, Kenya Commercial Bank and Barclays Bank are the most expensive, with their interest rates ranging from 17% to 21%.
This is incomparable to smaller banks which are charging at between 14% and 15.1%.
On the other hand, mortgage rates stand at between 18.2% and 21%, with the big banks again being the costliest.
For personal loans, bank charges account for up to 5.5% of the total cost while for mortgages, the fees comprise of 9.3% of the total loan.
"The larger banks in the industry, which control a substantial amount of the loan book, are the costliest, and hence are able to sway the market, given the low customer bargaining power," noted Cytonn, a Nairobi-based investment firm.
The firm observed that loans with a one-year duration, both secured and unsecured, should attract the maximum chargeable interest of 14 percent, but banks have managed to increase the true cost of credit with charges varying depending on the institution.
Since the introduction of interest caps, there has been a decline in access to credit, with the private sector credit growth hitting an eight-year low of 2.1 percent in May compared to 25.8 percent at its peak in June 2014, and a five-year average of 18 percent.
ALSO SEE: Equity and other banks with most expensive loans
This decline has been attributed to the fact that banks are shunning high-risk customers and investing in risk-free treasuries, which offer better returns on a risk adjusted basis.
"The loan growth in commercial banks in Kenya has also been affected, with listed banks recording a growth of 7.1 percent in Quarter One of 2017, compared to 16 percent during the same period in 2016. The most affected banks in terms of loan growth are those with a focus on the retail market, the segment that the law was meant to protect, indicating the rate cap might not have achieved its intended objective," noted Cytonn.
To correct the market, Cytonn is calling for the removal of interest caps, given that the law has become a hindrance to credit growth, evidenced by the continued decline of private sector credit growth.
Source: Xinhua 
Are Kenyans shunning M-Akiba?
In addition to floating the Sh1 billion bond, the government had also left the door open for a Sh3.85 billion staggered on a fortnightly basis
The government's effort to further tap into the domestic money market by leveraging on mobile phones technology appears to be faltering.
The National Treasury was on Sunday forced to extend the second phase of the M-Akiba bond after it fell short of target.
The government was looking to raise Sh1 billion but by close of the sale on Friday, only Sh140 million had been realised. The sale has now been extended to September 11. Only about 235,672 people participated in the second phase.
M-Akiba was launched with the enabling Kenyans with low income buy shares on their mobile phones and earn interest while helping finance infrastructural and developmental projects, which the government says will as a result be executed at lower costs because the cost of funding for these projects will decline. The government is targeting to raise a total of Sh5 billion this year.
One can invest a minimum of Sh3,000 up to a maximum of Sh140, 000 per day with the investment earning 10 per cent interest paid every six months.
In the pilot base, which attracted 102,632 investors, the government achieved its target of raising Sh150 million.
However, the slow intake in the second base means Treasury must go back to the drawing board.
In addition to floating the Sh1 billion bond, the government had also left the door open for a Sh3.85 billion staggered on a fortnightly basis.
But the government says the extension was informed an increased number of investors, who rushed to buy the mobile bonds in the last three days to the July 21 deadline.
"It is only right that these investors are given the opportunity to participate," Treasury public debt management director general Wohoro Ndohho said.
However, those who had both the bond before the expiry of the deadline will not be disadvantaged since they will be paid interest of a pro rata basis.