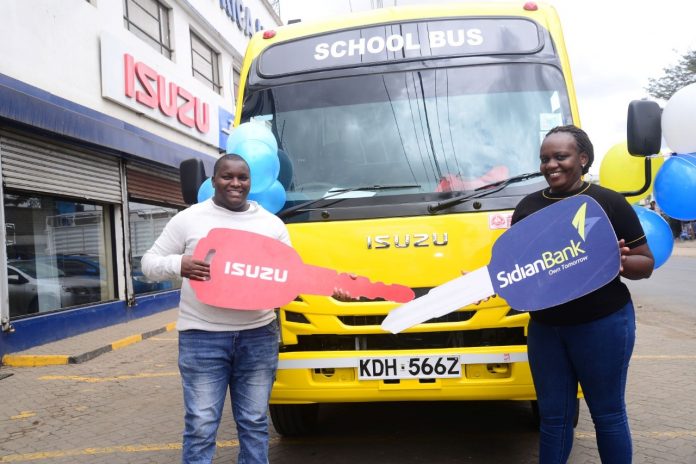 Sidian Bank, an SME focused lender, has partnered with Isuzu East Africa to provide 95% financing on new school buses and 90% financing on new commercial vehicles.
The programme dubbed "Chomoka na Uomoke" supports the lender's vision of supporting entrepreneurs to "own tomorrow".  The bank has targeted the small and medium enterprises (SMEs) sector by providing an array of award winning digital and banking solutions.
The lender is focused on leveraging on partnerships that offer transformative and innovative solutions to empower small and medium sized businesses.
Speaking in Nairobi, Sidian Bank's Chief Executive Officer Chege Thumbi noted that this partnership is well aligned to the lender's mandate to support SMEs to thrive.
"I am positive that this partnership with Isuzu EA will ease access to credit for entrepreneurs in the economy, supporting SMEs ease the day to day operations of their businesses. Coupled with cutting-edge digital solutions and dedicated relationship managers driven by excellent customer service, I am positive that our customers will not only benefit from affordable credit but also enjoy excellent turn-around time in processing their applications," Thumbi said.
"Through the bank's risk based pricing programme, we are in a strategic position to tailor financing based on our customers risk profile. I welcome all our customers to leverage on this opportunity," he added.
Sidian Bank expects speedy uptake of this financing package in a time that Kenya is committed to becoming a newly industrialized nation by 2030 and acknowledges that quality e*******n is vital to achieving this vision.
Within a short time and with GPE support, Kenya has made impressive progress, including a 70% reduction in the cost of textbooks, the equal enrollment of girls and boys, and the training of 102,000 teachers in innovative teaching methods.
Read: Centum Exits Sidian Bank in Ksh4.3B Deal With Nigeria's Access Bank
>>> Sidian Bank Records Improved Profits In Q1 Of 2021