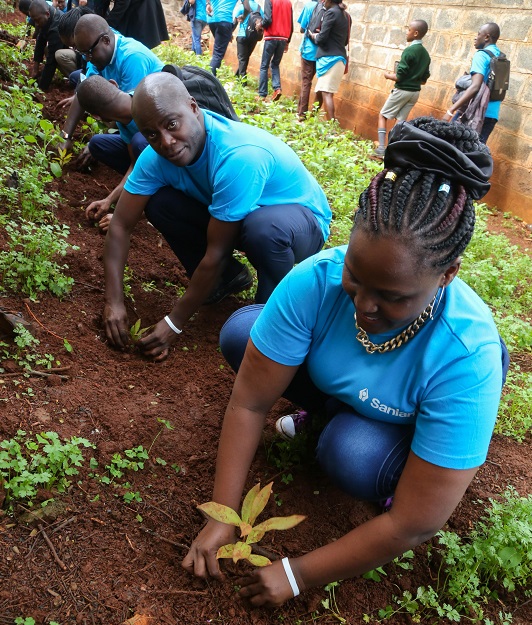 Listed non-bank financial services provider Sanlam Kenya, has joined the continental Sanlam Group family in centennial anniversary celebrations that kicked off on Friday.
The Sanlam Group, was founded in 1918 and has since grown to become a Pan-African insurance, investment and ancillary services group, able to service multi-national clients and their intermediaries more effectively than any other group operating across the continent.
Sanlam Kenya Acting Group CEO, Mr George Kuria said the local arm will be hosting a series of initiatives to mark the milestone. On June 11th, Sanlam Kenya employees planted more than 500 trees at Westlands Primary School as part of the celebrations and the National Panda Miti, Penda Kenya campaign.
"At Sanlam Kenya, we, we are excited to be celebrating our centennial anniversary. It has taken 100 years of hard work and perseverance over many generations to get us this far. In Kenya and beyond, the company has evolved but we've always stayed committed to creating lasting value and enabling people to live their best lives possible," Mr Kuria said.
Sanlam Kenya's growth from the pre-independence days, he said has been facilitated by the continued support of its General, Life and Investments clients. Sanlam Kenya was incorporated on 26th October 1946, then known as Indo Africa Insurance Company Limited and started underwriting life business in 1947 before listing on the Nairobi Securities Exchange in 1963.
Continent ally, the Sanlam Group, which was founded in 1918, has evolved over the years from a traditional life insurance company to a broad-based diversified financial services provider that specialises in insurance (life and general), financial planning, retirement, investments and wealth. In 1998 Sanlam demutualised, listing on the JSE Ltd and the Namibian Stock Exchange. The Group was restructured into several independent businesses within a federal business structure.
Read: Magic millions – meet Kenya's richest magician
Today, Sanlam is a diversified financial services provider with an extensive product offering catering for all market segments. It also remains a pioneer of technological development and innovation. The group has consistently grown its local as well as an international footprint – it now has a presence in 33 African countries, India, Malaysia, Philippines, the UK /Ireland, the US, Switzerland and Australia.
From Cape to Casablanca, the Group is particularly proud of its footprint across Africa, boasting more than 11 800 employees throughout the continent.