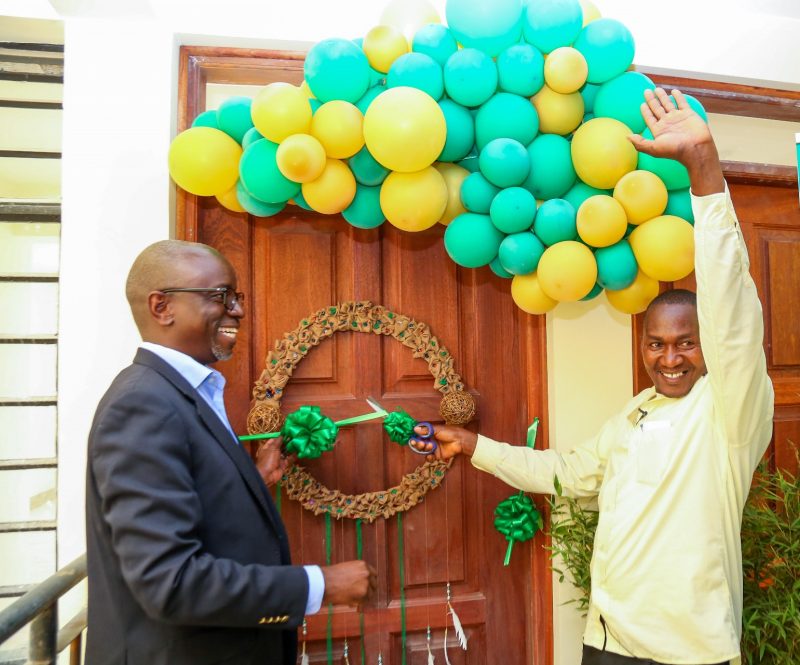 A fourth house in Safaricom M-Pesa Tu promotion has been won by Benson Kilonzi. The 46-year-old small scale farmer and jua kali artisan from Ithumula village in Kitui County was awarded the keys to the Ksh.7.8 million apartment on Friday.
The house is located in Nairobi's Kahawa West estate, off Thika Road and the Eastern Bypass.
Mr. Kilonzi, a father of two recalled the delight of the moment when he got the news of his win. "I remember on the day I received a call that I had won a house. I was digging a pit latrine for one of my neighbours in Ithumula. I did not believe it at first but after some time the news sunk in when I confirmed that the number that had called was indeed the official Safaricom number.
RELATED : SOUTH AFRICAN DESIGNER WINS M-PESA HOUSE
The jua kali artisan was elated at the sudden change in housing status. "This is certainly a life-changing win for my entire family and me as the casual jobs I do cannot sufficiently feed my family nor build a decent house."
The small scale farmer said he uses M-Pesa's M-Shwari as his bank to pay school fees for his two sons. His first born attends college while his second born is in secondary school. He also said that he receives payments for his masonry services through M-Pesa as he finds it convenient.
It was all smiles from Benson Kilonzi, when he stepped into his new apartment for the first time 😁#MaishaNiMPESATu pic.twitter.com/p3HZUZOVIt

— Safaricom PLC (@SafaricomPLC) August 3, 2018
Safaricom Director for Regional Sales Steve Okeyo said the promotion was launched to reward loyal subscribers. "We launched the Maisha Ni M-Pesa Tu promotion to recognise and reward our customers for their support and loyalty as the service has evolved."
Mr. Kilonzi joins Jeniffer Kathure – a Khat trader from Meru County, James Njagi – a metal artisan at Gikomba market, and Eric Lindenberg – a South African designer resident in Nairobi as the first four of seven apartment winners in the ongoing promotion.
SEE ALSO : BETTY KYALO'S KTN FAREWELL
"With seven apartments to be won, we are also ensuring that for our customers, we are making an impact even beyond financial services," said Mr. Okeyo.
In addition to the four apartments, more than 360,000 M-Pesa customers and agents have won instant prizes including cash and float amounts of Ksh2,000, Ksh5,000 and Ksh10,000. The promotion began just over four weeks ago