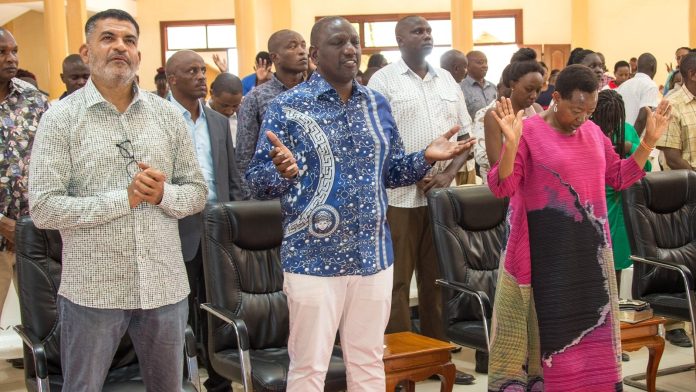 President William Ruto on Wednesday, January 5 took on his first interview since ascending to the Presidency in September last year. The evening interview at State House featured representatives from all major broadcasters.
Among issues he addressed was the cost of living. One of Ruto's key promises on the campaign trail had been that he would reduce the cost of living within his first 100 days in office. He had singled out the price of unga (flour), arguably the important food commodity in most Kenyan households, and vowed to bring the price of a 2kg packet down from the current Ksh200 to below Ksh100 within the first 100 days. This promise has gone unfulfilled so far, and Kenyans continue to grapple with record-high food prices.
Ruto admitted that they had not done 'anything big' to bring down the cost of living, but maintained that by scrapping various subsidies and lowering input costs, the government had set the foundation to bring down the cost of unga significantly.
The President, however, also caught some flak for claiming that if he lost the Presidency, the cost of unga would likely be at Ksh300. To many observers and citizens digging deep into their pockets to afford food, fuel, power and other goods and services, this came off as deflection and a far cry from his lofty campaign promises.
"We had to put the brakes on brokers and cartels who were raising the prices every day. This is why the price of unga has gone down on average from around Ksh230 to Ksh190. We haven't done something so big, but at least we have started putting the brakes on the rising cost of living. I want to tell you that if the election went another way, unga would be at Ksh300 right now – because if you are not sensitive with what's going on in the country,  and not involved, not necessarily in front but behind the scenes to ensure those who determine the price of food don't take advantage…" he stated.
READ>Why Kenyans Are Turning on Their Banks
Ruto put the previous administration led by President Uhuru Kenyatta on the spot over subsidies he has maintained are unsustainable, as well as loopholes that allowed 'cartels' to benefit at the expense of farmers and Kenyans in general.
"It was costing Ksh16 billion every month to subsidize fuel, Ksh8 billion on unga, and Ksh3 billion on electricity, a total of Ksh27 billion every month. This was not an economic decision, it was political. A few people beneffited, not consumers," he stated.
NEXT READ>Battery Exchange Stations Kick Off Electric Motorbikes Revolution In Kenya