The National Transport and Safety Authority (NTSA) and Postal Corporation of Kenya (PCK) have established a partnership that will see PCK provide logistics and delivery services to the public for Driving Licenses, Log Books, PSV Badges, and other documents countrywide.
The operationalization of the new service level agreement will take effect on or before Wednesday 31st March 2021.
The partnership comes at a time when PCK is establishing itself as an ideal delivery partner for government agencies. The corporation is mandated to provide accessible, affordable, and reliable Postal Services to all parts of Kenya as per the PCK Act (1998).
Speaking during the signing of the agreement, the Director-General, NTSA, George Njao said that in the era of the Covid-19 pandemic, the strategic partnership with PCK would help NTSA decongest their premises by having documents delivered to Kenyans.
In his remarks, the Postmaster-General Dan Kagwe lauded the efforts Posta Kenya is making to respond to fast-changing consumer needs in the adaptation of new technologies.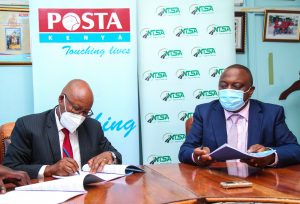 "This enables the development of suitable last-mile delivery networks, which today are the enablers of economic, social, financial, and digital inclusion," said Mr. Kagwe
According to PCK all shipments will be processed and tracked through the Corporation's Post Global System or any other system developed by the Corporation for the purpose.
The Corporation will ensure that its office staff uses the online system visible to both parties for updates on the status of each consignment in real-time up to delivery.
Mr. Njao said that the partnership with PCK was aimed at fulfilling a presidential directive of same-day service delivery and improving transparency in the management of documents.
Mr. Kagwe said PCK has a great capacity to handle distribution and logistical services for NTSA and that the partnership would ease customer experience. He asserted that PCK's long-established national network of over 600 branches countrywide and experience in last-mile delivery would be an added advantage.
He confirmed that the Corporation was currently a key partner of the Ministry of Interior & Coordination of National Government and Kenya Medical Supplies Authority (KEMSA) on last-mile delivery of passports and distribution of drugs to support the Universal Health Service to citizens among others.