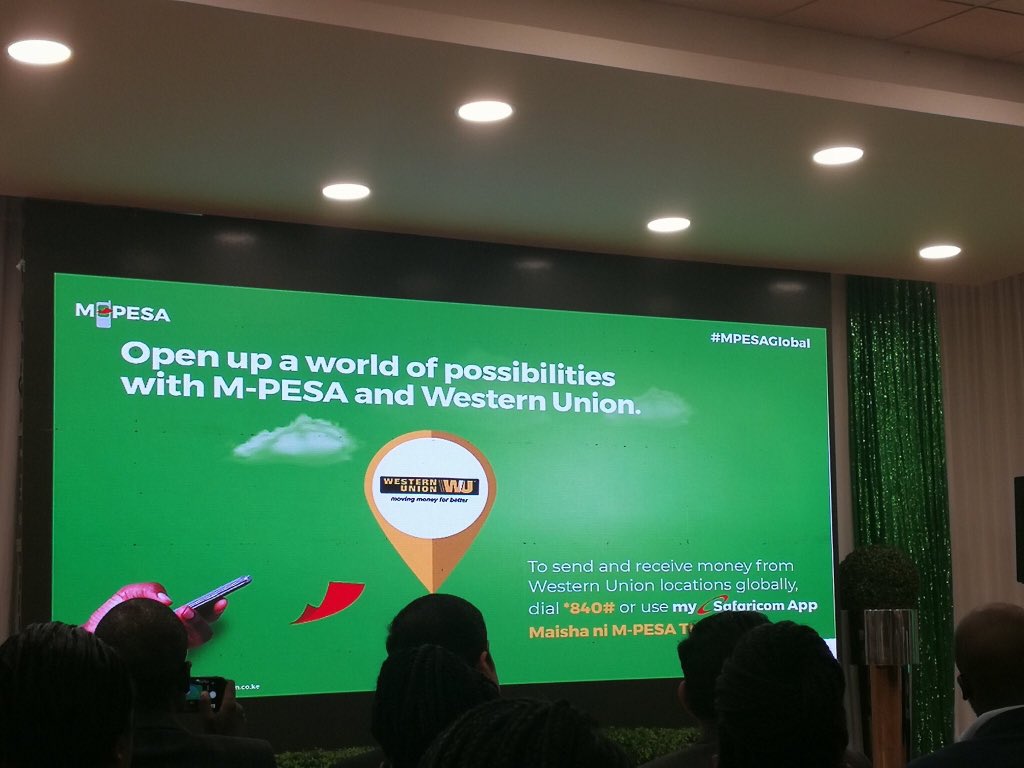 [dropcap]W[/dropcap]hen Safaricom launched its international money transfer (IMT), M-PESA Global, it opened a new avenue for collaboration with established global players in closing transactions. As usual, the management was deliberate in picking its partners based on global strength, reputation and local presence.
A big catch in the M-PESA Global foray has been Western Union, which enables customers to receive and send money to more than 200 countries. The partnership, which is actually an enhancement of the existing partnership signed in March 2011, opens money channels for Kenyans to access more business opportunities around the world and eliminates the need for forex as Western Union has a presence in 130 currencies.
M-Pesa Global, through Western Union, connects Kenyans to opportunities by making it easy and seamless for them to transact with the world and for the world to transact with Kenyans.
The fact that Western Union can take on board M-PESA is evidence of the growing confidence in Safaricom's revolutionary money transfer service to meet best international practices against, for example, money laundering and terrorism financing, concerns that had delayed outbound cash transfers in the past.
With lower charges and convenience of receiving money through M-PESA accounts, Kenyans can send and receive money for business, medical, school fees and personal use through their phones and via Western Union network. M-PESA users can now pay for low-value overseas bills such as sending students pocket money directly from the phone or paying for items, while foreigners working in Kenya can remit cash back home to their families in moderate tokens.
The 21 million customers M-PESA customers drive more than 17 million transactions every day and this is expected to rise with the entry of Western Union, which has 176 years expertise and supports over half a million outlets across the globe.
Western Union and M-PESA will significantly boost each other's operations as the two seek to deploy digital services globally. This is a phenomenal avenue for financial inclusion where Kenyans whose children are schooling overseas can send them school fees and pocket money in a matter of minutes on their mobile phones or bank accounts.
Sending money via Western Union Money Transfer is easy and convenient. Users can send a maximum of US$ 500 per transaction and US$ 5,000 per month. The receiver will not be required to pay any transaction fee and both sender and receiver get SMS notification once the Western Union Mobile Money Transfer is executed.
RELATED: M-PESA GLOBAL CHARGES MOST AFFORDABLE 
Those not on Safaricom network will be required to register within 21 days. If they choose not to, or the 21 days elapse, the receiver can contact the sender for further transaction details and collect the money transfer through a Western Union Agent through the standard process.
The cash sent from M-Pesa can be collected from Western Union agents, while transfers to bank accounts are possible to clients in the United Kingdom, United Arab Emirates and Germany.
To access M-Pesa Global, Safaricom subscribers can dial *840# or by navigating to "M-PESA Global" under the M-PESA menu on mySafaricomApp.