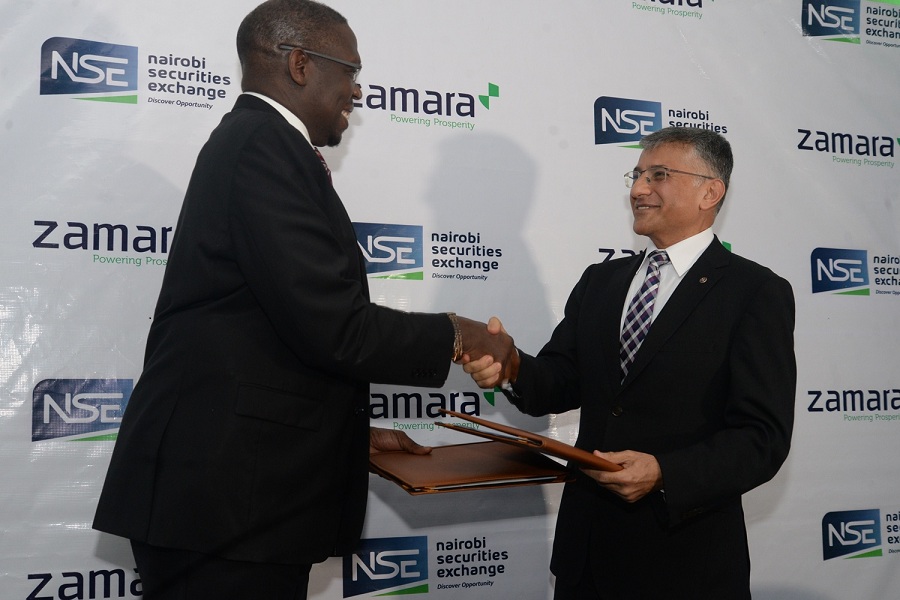 The Nairobi Securities Exchange (NSE) and Zamara have signed a Memorandum of Understanding (MoU) to launch a joint training programme and the Zamara Kenya Equity Index. The new training partnership will help in expanding financial literacy and improving investor knowledge. The Zamara Kenya Equity Index is an effective benchmark for institutional investors, including pension funds and insurance companies investing in the NSE.
The NSE and Zamara have partnered to offer high quality trainings on investment. The aim of this partnership is to motivate Kenyans to get investment education to achieve financial freedom. We hope to make a meaningful difference and help to create a more financially secure and prosperous society. The first set of trainings will be held on August 9, 2018.
The motivation for creating the Zamara Kenya Equity Index is to offer a fully investible index that can be used as a fair benchmark to monitor the investment performance of pension funds and other investors. The index was designed by Zamara while the data was provided by the NSE and calculated by S&P Dow Jones Indices. The index was created to overcome some of the key challenges encountered with performance measurement in the pensions industry as follows.
Speaking during the signing of the MoU, NSE Chief Executive Geoffrey Odundo said: "The NSE is delighted to sign this MoU that will enable the pension industry improve investment monitoring and enable industry players undertake significant analysis on performance. Additionally the MoU will enable the two parties offer specialized capital markets courses and trainings with a view of developing capabilities of actors in the industry.
Sundeep Raichura, Group CEO of Zamara said: "We are greatly honoured to work with the NSE and combine our expertise in a training partnership to help expand financial literacy, improve investor knowledge and promote a culture of saving and investing to help Kenyans meet their financial goals. We are also very excited today to launch the Zamara Equity Index which we believe will serve as a benchmark for institutional investors, including pension funds and insurance companies investing on the NSE. Our new index addresses many of the concerns of institutional investors and will also pave the way for the creation of index tracker funds and other solutions."