Just minutes after World Marathon record holder Eliud Kipchoge threatened to sue NRG Radio for brand infringement, the station has promised to respond to the demand.
In a cynical tweet that seems to have been deleted, the station said it would respond to the hero in under 1:59 hours.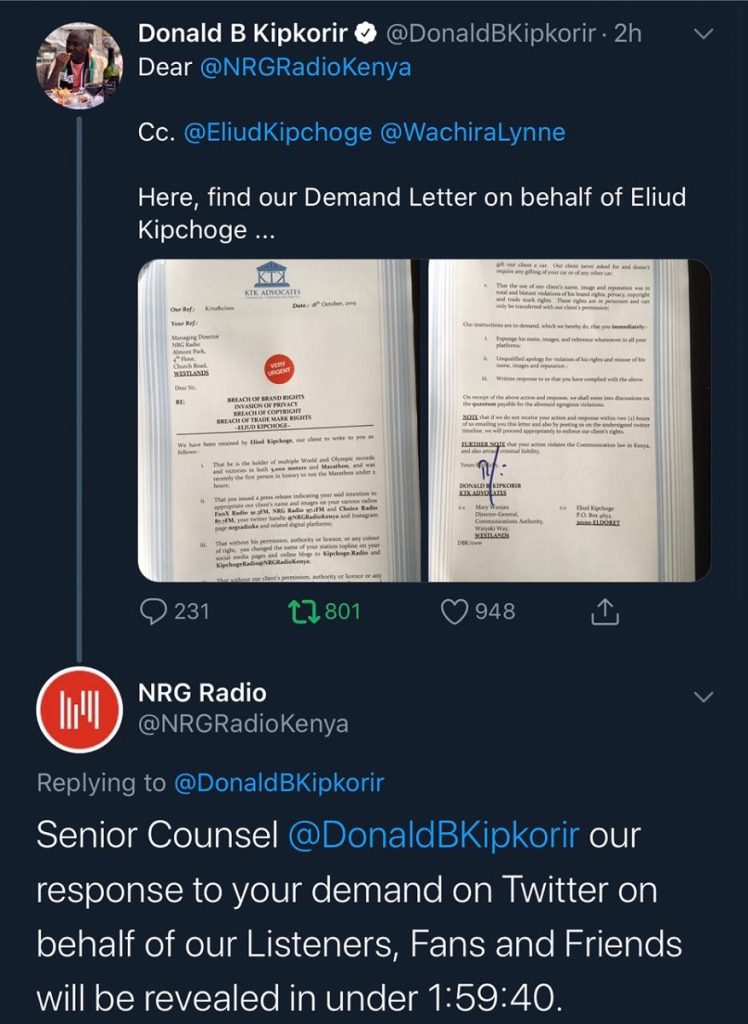 Kipchoge's lawyer Donald Kipkorir threatened to take action against the station if it failed to address the issues on breaching of the marathoner's brand rights.
In the document, the lawyer accused NRG Radio of using Kipchoge's name without his permission.
The station had changed its name, across all its social media platforms and online blogs, to Kipchoge.
In the demand letter, Kipchoge says "That without permission, authority or license or any colour of right, you changed the name of your station topline on your social media pages and online blogs to Kipchoge.Radio and [email protected]."
The demand is that NRG removes his name, references, and images from all their platforms. In addition, NRG Radio is expected to apologise for violating Kipchoge's rights.
Read Also >> Journalists Poorest in Sex Among Professionals
Kipkorir, in the letter, added that NRG is expected to respond within two hours of receiving the email.