Nasa demos get ugly a day after Raila quits
Police Spokesman George Kinoti has asked those who were assaulted or had their property vandalised to report to the authorities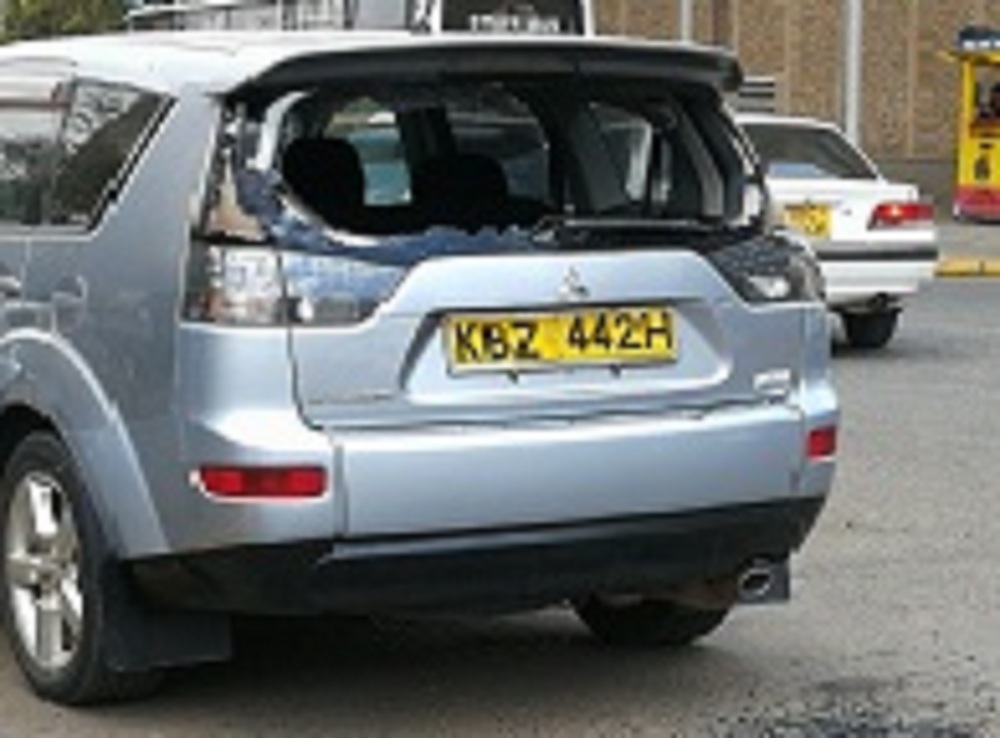 Businesses in Nairobi are counting losses after NASA supporters taking part in street demos to push out top IEBC officials went on a looting spree despite pleas from their leaders to maintain peace. Video footage posted on social media forums shows groups of youth looting from businesses that remained open as the demonstrators made their way from Uhuru Park to Anniversary Towers, the IEBC headquarters.
At Antonio's Grill near Holy Family Basilica, the youth took away with sodas that had been left outside the eatery. Police were forced to fire in the air to disperse the unruly youth.
Motorists were not spared either and those who encountered the demonstrators were robbed of valuables. Several vehicles parked within the Central Business District had their windscreens damaged and valuables taken. Pedestrians were also assaulted.
However, former Machakos Senator Johnstone Muthama claimed the looters were members of the so-called Nairobi Business Community.
"Today we commend police for a job well done. We have held a peaceful demonstration as they protected us. Even goons tried to attack us but they were chased," Muthama said.
The organisers had mounted loud speakers on a vehicle leading the demonstration urging them to maintain peace.
Police were forced to fire live bullets and tear gas canisters to chase away the looters. Some bullets found their way to adjacent offices causing panic.
Police Spokesman George Kinoti has asked those who were assaulted or had their property vandalised to report to the authorities. "We are requesting anyone who may have been assaulted, robbed or suffered a loss of any nature during Monday 9th or Wednesday 11th anti-IEBC demonstrations to report to the nearest police station," Kinoti advised.
Nairobi Governor Mike Sonko condemned the looting and called for police action.
"As the Governor of Nairobi I condemn in the strongest terms possible the hooliganism witnessed today in the name of Peaceful Demonstrations. There is no law in Kenya that protects those determined to destroy other people's property and infringe on their right to earn a living," he tweeted.
"I urge all security agencies to move with speed, arrest and prosecute those behind this senseless barbarism."
At Uhuru Park, where the protesters reconverged, Siaya Senator James Orengo declared that the demos will be held daily beginning Monday next week.
Dagoretti North MP Simba Arati promised to supply NASA supporters with 20,000 loaves of bread and a similar number of bottles of water and sodas for their protests.
In Homabay, demonstrators injured a police officer and snatched his gun but it was later recovered in a house that was set ablaze.
On Monday, one demonstrator was shot and injured in the town. Reports indicate police have imposed a dusk to dawn curfew in the area.
In Nairobi, two people arrested during Monday's demonstrations were charged with violent robbery. Another demonstrator who was shot and injured is in hospital under police guard.
NASA has declared it will sustain a "No Reforms, No Election" campaign after its candidate Raila Odinga withdrew from the October 26 fresh presidential election. He wants a fresh poll held after 90 days. Wednesday, Orengo declared there will be no election without Raila as a candidate.
US Green Card applications lost
State Department asks applicants to resubmit entries but experts fear that many entrants may not know to reapply
Kenyans and other foreigners who had submitted entries submitted to the US Diversity Immigrant Visa Program, also known as the Green Card Lottery, between October 3rd and 10th risk losing the opportunity to take up US citizenship after they got lost due to a technical glitch.
Individuals who submitted applications during these dates are directed to reapply. "Entries submitted during October 3-10 are not valid and have been excluded from the system; they will not count as a duplicate entry," a message on the US State Department's website said.
Duplicate entries to the program disqualify aspiring immigrants.
"The technical issue has been resolved and a new full entry period will begin at noon, U.S. Eastern Daylight Time on Wednesday October 18, 2017 and will run until noon Eastern Standard Time on Wednesday November 22, 2017," it added, telling applicants to "throw away" any confirmation number or documentation of applications submitted between the 3rd and 10th.
The State Department will be sending automated email notifications to each entrant who applied in early October, instructing them to check the website dvlottery.state.gov "for an important announcement", spokesperson Pooja Jhunjhunwala told Voice of America (VOA) via email.
"We will also work through our embassies and consulates to inform potential entrants of the situation and new registration period using social media and local media outlets," she wrote.
Though the application period has been extended, experts fear that many entrants may not know to reapply.
"At least, they extended the entry period to make it a full month again. But I have doubt that thousands of applicants from the third world, who don't check the internet every day, will know that their prior entry is no longer valid," Kenneth Rinzler, a Washington, DC-based immigration attorney, told VOA.
For would-be Americans who don't have family in the US, or an employer to sponsor them, or who aren't refugees, the diversity visa is the only option. It requires a high school degree or a few years of work experience just to qualify.
If the application is valid, your number is chosen and you pass the other requirements for immigrants, you still need the money to get to the U.S. It's a small portion of immigration to the U.S. every year, but larger than other cornerstones of the program, like employment-based immigrant visas.
In Fiscal Year 2015, the US issued 48,097 diversity visas out of 531,463 total immigrant visas.
Winners of the current lottery would get their visas during the 2019 fiscal year that runs from October 1, 2018 to September 30, 2019.
Natives of all countries qualify except Bangladesh, Brazil, Canada, China (mainland-born), Colombia, the Dominican Republic, El Salvador, Haiti, India, Jamaica, Mexico, Nigeria, Pakistan, Peru, the Philippines, South Korea, the United Kingdom (except Northern Ireland) and its dependent territories, and Vietnam. People born in Hong Kong, Macau, and Taiwan are eligible.
Story credit: voanews.com.