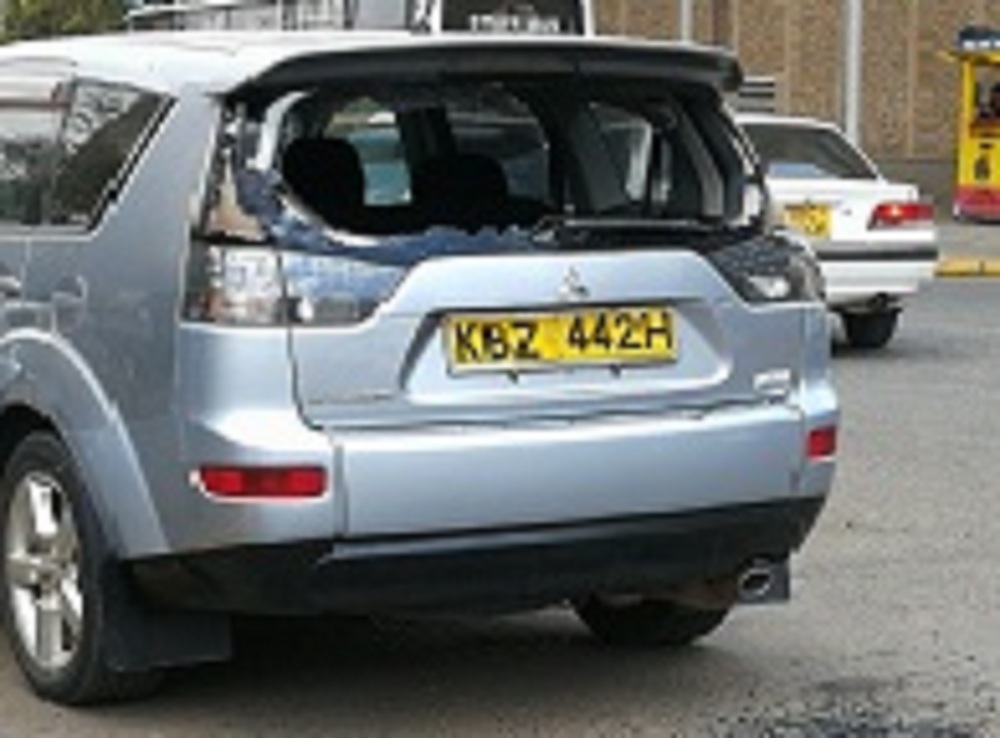 Businesses in Nairobi are counting losses after NASA supporters taking part in street demos to push out top IEBC officials went on a looting spree despite pleas from their leaders to maintain peace. Video footage posted on social media forums shows groups of youth looting from businesses that remained open as the demonstrators made their way from Uhuru Park to Anniversary Towers, the IEBC headquarters.
At Antonio's Grill near Holy Family Basilica, the youth took away with sodas that had been left outside the eatery. Police were forced to fire in the air to disperse the unruly youth.
Motorists were not spared either and those who encountered the demonstrators were robbed of valuables. Several vehicles parked within the Central Business District had their windscreens damaged and valuables taken. Pedestrians were also assaulted.
However, former Machakos Senator Johnstone Muthama claimed the looters were members of the so-called Nairobi Business Community.
"Today we commend police for a job well done. We have held a peaceful demonstration as they protected us. Even goons tried to attack us but they were chased," Muthama said.
The organisers had mounted loud speakers on a vehicle leading the demonstration urging them to maintain peace.
Police were forced to fire live bullets and tear gas canisters to chase away the looters. Some bullets found their way to adjacent offices causing panic.
Police Spokesman George Kinoti has asked those who were assaulted or had their property vandalised to report to the authorities. "We are requesting anyone who may have been assaulted, robbed or suffered a loss of any nature during Monday 9th or Wednesday 11th anti-IEBC demonstrations to report to the nearest police station," Kinoti advised.
Nairobi Governor Mike Sonko condemned the looting and called for police action.
"As the Governor of Nairobi I condemn in the strongest terms possible the hooliganism witnessed today in the name of Peaceful Demonstrations. There is no law in Kenya that protects those determined to destroy other people's property and infringe on their right to earn a living," he tweeted.
"I urge all security agencies to move with speed, arrest and prosecute those behind this senseless barbarism."
At Uhuru Park, where the protesters reconverged, Siaya Senator James Orengo declared that the demos will be held daily beginning Monday next week.
Dagoretti North MP Simba Arati promised to supply NASA supporters with 20,000 loaves of bread and a similar number of bottles of water and sodas for their protests.
In Homabay, demonstrators injured a police officer and snatched his gun but it was later recovered in a house that was set ablaze.
On Monday, one demonstrator was shot and injured in the town. Reports indicate police have imposed a dusk to dawn curfew in the area.
In Nairobi, two people arrested during Monday's demonstrations were charged with violent robbery. Another demonstrator who was shot and injured is in hospital under police guard.
NASA has declared it will sustain a "No Reforms, No Election" campaign after its candidate Raila Odinga withdrew from the October 26 fresh presidential election. He wants a fresh poll held after 90 days. Wednesday, Orengo declared there will be no election without Raila as a candidate.