Mojo Skincare Products: Three years ago, Judith Musembi noticed something in the personal care market: most lotions were very expensive and, in most cases, did not offer value for money.  Having worked in the insurance industry for 14 years, Judith knew how to spot and exploit opportunities.
So in August 2018, she started Mojo Skincare Products Limited to produce "quality, effective and adorable world-class personal care products that will be passed down from generation to generation."
Indeed, three years later, Judith Musembi is living that dream, with Mojo Skincare Products already churning out hand and body lotions and creams, with plans to diversify into hair care and other personal/skin care products.
Judith says the company develops premium quality lotions that are not only safe to use but also pocket friendly. "These products have been approved by various regulatory bodies in Kenya, including the Kenya Bureau of Standards (KEBS)," says Judith, who is the managing director of Mojo Skincare Products Ltd. "In addition, professionals developed the bottle design, labeling design, colour that complement and resonate with our brand."
Last year, the company marked a milestone by rolling out the Mojo Hand and Body lotions as part of its 2020 products line in four variants – Cocoa Butter, Vitamin E, Aloe Vera and Glycerin. "Our lotions feature hand-picked, cutting edge formulation that is suitable and friendly for every skin type, tested and declared safe for use," says Judith.
Recognition For Quality
Mojo was recognised by Kenya Bureau of Standards for being among Kenya Quality Awards  pioneer MSMEs during the launch of the awards in 2019.The same year, the company was ranked the Best Emerging Beauty and Cosmetic brand in Kenya in the Kenya Beauty and Cosmetic Awards.
Mojo Skincare sources raw materials both locally and internationally, more specifically in France, which is the global leader in cosmetics and personal care products. "These materials have special active ingredients like cocoa butter oils almond oil, rose hip, aloe vera oil and Vitamin-E oils that have natural emollient properties to moisturize, soften and nurture skin," says Judith.
Fair Pricing, Premium Quality
The company's pricing strategy ranges in the upper-middle bracket depending on product, competition and market environment. The products marketed through supermarket chains, cosmetic stores, online stores such as Jumia and Kasha and pharmacies. Mojo also supplies hotel amenities and accessories with customized labels.
Judith says Mojo targets the mass market, more so female customers aged between 13 and 55 and plans to introduce products for the male segment. BUSINESS TODAY talked to JUDITH MUSEMBI on a wide-range of issues touching on Mojo Skincare Products Ltd and the personal care market in Kenya.
BUSINESS TODAY: Does Mojo have a factory in Kenya? How big is the company in terms of employees and production capacity?
JUDITH MUSEMBI: Mojo Skincare Products Limited is a homegrown small scale production company based in Nakuru, Rift Valley Kenya, which specializes in the cosmetic formulation and production. We have only six employees running various departments. We produce about 600,000 bottles of 250ml lotions per year.
Personal care market in Kenya must be lucrative, right?
Kenya's beauty industry is currently valued at Ksh580 billion, while the hair industry is valued at Ksh132 billion. This shows the anticipated growth and opportunities in the personal care industry, which Mojo is moving to exploit through product formulation and expansion into other products.
Mojo's plans for the future, say five years from now and beyond?
Mojo's primary aim is to employ more workers in the future and assist the government in meeting its vision 2030. Currently, the rate of unemployment in the country is high compared to 2018 and 2019. According to Statista (2021), the rate of unemployment was 2.65% in 2020. This is further driven by the adverse impacts of COVID-19. Nonetheless, with the value of personal care business projected to grow, Mojo intends to maximize the opportunity and hire more workers.
Mojo also plans to become a leading beauty and skincare company. Currently,  with better advertisements through social media, wider markets reach through economic expansion, production of quality yet affordable products coupled with well researched formulations, Mojo is emerging as a major player in the beauty and skin care market in Kenya and regionally.
The firm also plans to increase its market reach. Currently, we are available on Jumia, and several major supermarkets such as Mulleys, Jamaa, Woolmatt, and Shivling. However, in the future, we plan to work with more retailers and supermarkets countrywide. Mojo plans to increase its range of products beyond hand and body lotions.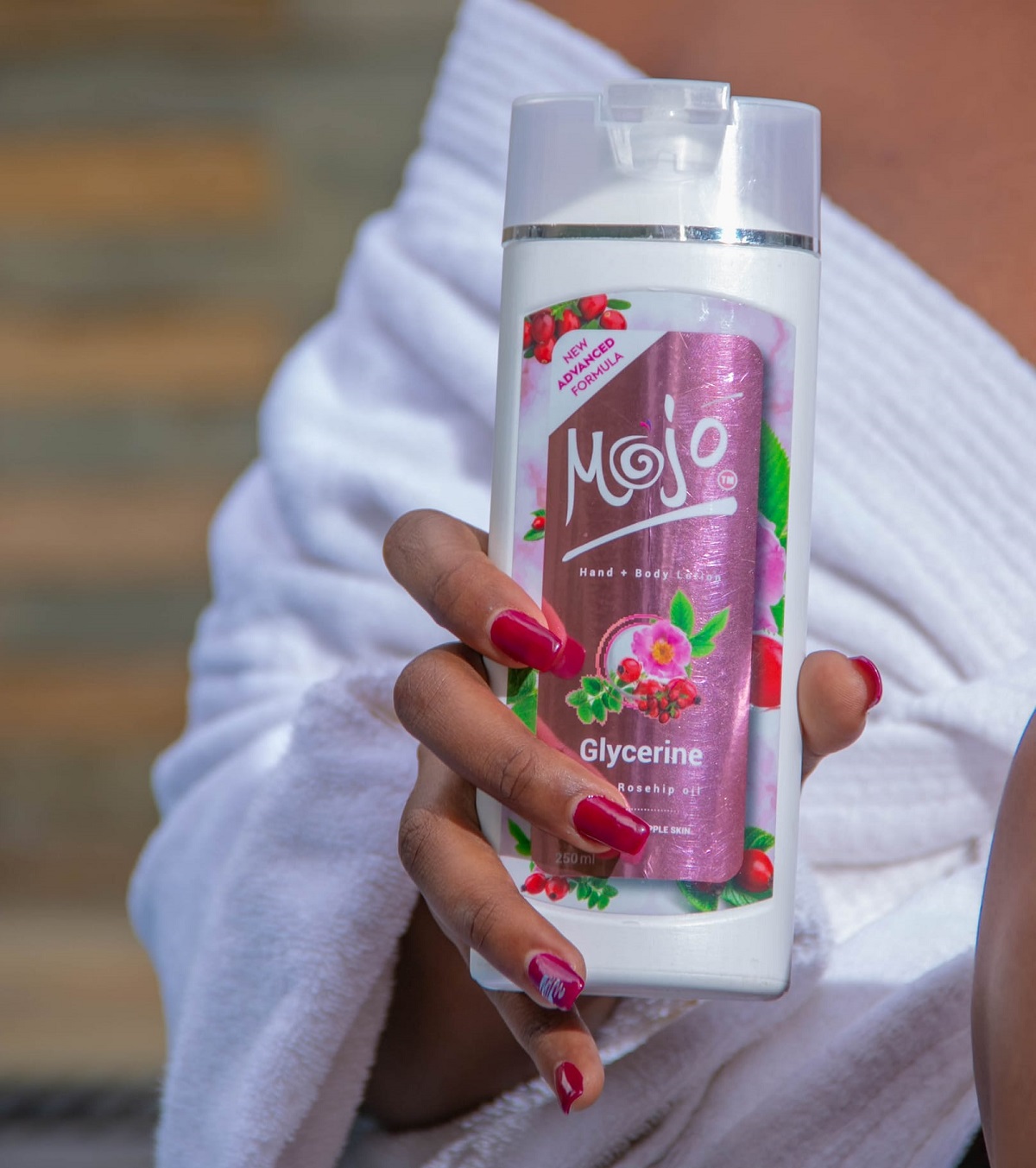 Any notable challenges you are facing in the industry?
Some retailers were apprehensive on stocking our lotions but our products have vindicated us and orders are growing as the products progressively gain repeat purchasers. Mojo is facing adverse impacts of COVID-19. Currently, the pandemic has resulted in economic decline, with many consumers prioritizing essential items rather than lifestyle products. Our sales this year have dropped compared to the three previous years.
How is competition?
Local competition is intense and it's not easy competing with multinational companies backed with strong financial muscles and many years of trading. However, we are carving our own niche in the market.
Why the name Mojo?
Mojo is originally a slang term in the US associated with the music and dance culture, which loosely translates to one's influence, self-confi­dence, and personal charisma, attributes that the brand aspires to bring out.