Nairobi County government plans to buy pothole patching machines.  According to the city county Transport Executive Mohamed Dagane, the government is in the process of acquiring three machines at a cost of Ksh150 million, or Ksh50 million each.
Dagane revealed that the equipment fixes potholes within five minutes. This, he said, was much faster and economical than manual works. "We are set on purchasing two or three of the machines in order to carry out routine maintenance of our roads in a bid to make them passable," stated Dagane.
The new machines will reduce road maintenance costs by 50 per cent, he said during a demonstration exercise carried out on Kenyatta Avenue by Avery East Africa (AEA) Company, which is a subsidiary of Transcentury group.
Key account manager for AEA Limited Michael Karigithu reiterated that they are still in talks with the county government to deploy the machines on the city roads.
If the plan succeeds, Nairobi will be among the first counties to employ such technology, which was imported from Europe. Other counties that have employed the technology are Kisumu, Trans-Nzoia and Mombasa.
"The technology is designed not to interfere with the free flow of traffic to a minimum and it also ensures durability of the repairs. Compared to the conventional way of repairing roads, our technology costs 48 per cent cheaper," he added.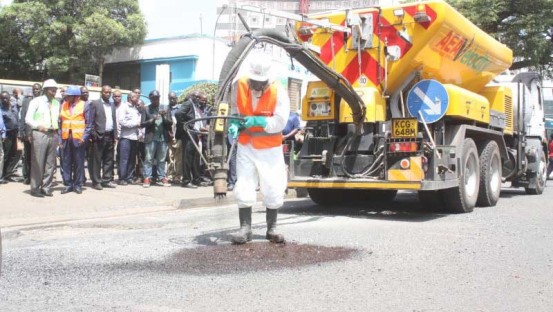 SEE ALSO
Acting County Secretary Leboo Morintat explained that the project could have been undertaken earlier, but delays in constituting the county government slowed it down. "We are looking to ensure that we take care of roads in estates, main highways as well as the Central Business District. The new equipment will be used to fill potholes for better roads," observed Leboo.
In estates across the county, residents have had to bear the brunt of bad roads and drainages, especially when it rains. The most affected estates include Eastleigh, Umoja and Buru Buru, and some sections of the Central Business District. In some cases, residents have been forced to use carts for transport.