Metropol TV General Manager Terryanne Chebet on Tuesday announced her resignation from the organization one year after being tapped to lead Kenya's first 24-hours business news channel.
In a post on her social media handles, Terryanne Chebet announced that she will now be concentrating on her personal businesses including Keyara Organics, a skincare product manufacturer she founded in 2014 and has been managing to date.
"Today I say goodbye to my incredible team at Metropol TV Kenya. What an incredible journey it has been! You have taught me the real definition of being a leader and what teamwork is. This wasnt an easy decision to make, especially because of your commitment and dedication to get the job done," posted Chebet.
"Our commitment to telling the stories of Mama Mbogas, SMEs, and startups has really inspired me and I will take this to my next journey. I appreciate you all for your viewership, criticism, and suggestions that helped build the first 24-hour business news channel in Kenya," she added.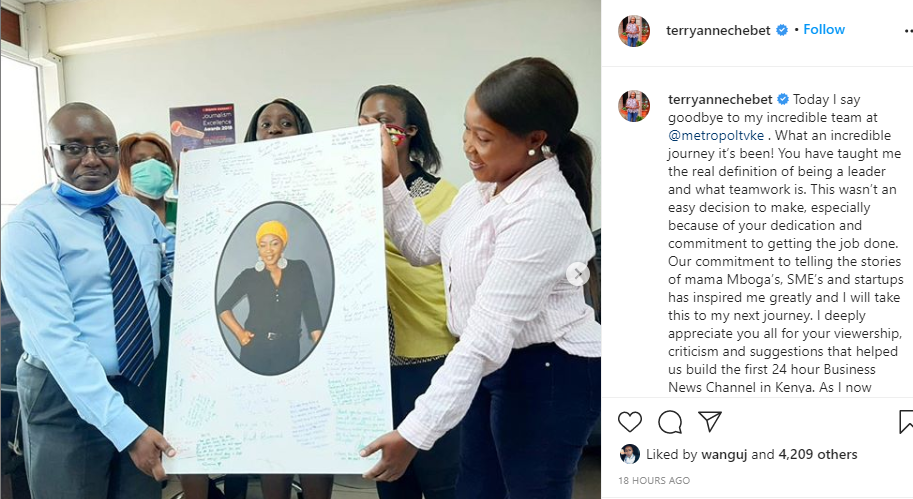 Terryanne joined Metropol TV in March 2019 and quickly became the face of the Metropol Corporation (the Credit Reference Bureau) owned TV channel.
The channel, a 24-hour business content provider had been on air since December 2018, was officially launched on March 26.
Following the official launch, Metropol TV cut a niche for itself with by styling itself as the go-to channel for viewers interested in deep analysis of business news ranging from analyis of the Nairobi Securities Exchange (NSE) and the Kenyan economy.
Prior to joining Metropol. Terryanne served as Chief Executive of the now-defunct Moses Kuria owned TV channel Fanaka TV which also at some point, also styled itself as a strictly business news channel. That was between April 2018 and March 2019.
But Terryanne is best known for her role as a business news anchor for Citizen TV, a role she held between January 2014 and December 2016 when the media stable sent over 100 employees packing including her, in one of the most ruthless purges in the Kenyan media industry.
She was also a business news anchor for CGTN Africa between November 2011 and February 2013. She was also a reporter/producer at CNBC Africa between March 2007 and August 2010.
The media personality can now shift her focus to Keyara organics and Scarlet Digital, her digital consultancy firm which leverages her huge following on social media to attract clients.
Under Scarlet Digital, she also offers Corporate MC services which she handles herself.