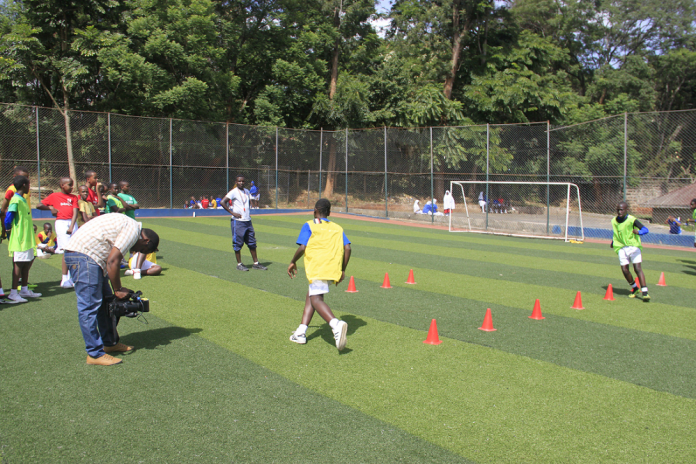 Makini Schools is nearly completing the construction of state-of-the-art sports facilities at its Ngong Road campus, the first of its kind for the group of schools, in an investment that has cost the institutions millions of shillings.
The sports facilities, which are expected to be ready by April 2023, will be equipped with a variety of amenities ranging from a large multipurpose field, outdoor gym, seating capacity of 200 spectators for the middle school, and a mid-sized multipurpose playing field, a basketball court and changing rooms for the Cambridge school.
The investment is part of improvements after foreign investors acquired the school in 2018. UK-based investor, Schole Limited, have been giving it a new strategic direction.
Open only to Makini Schools students, the highly anticipated sports facility is expected to improve the learners experience and ensure that they enjoy their stay in school. Additionally, the facility will contribute to the growth of the sports industry by fostering and developing the existing local talent while ensuring that students have integrated and varied skills.
Related >> How Mary Okello Transformed Makini Schools Into Billion-Shilling Enterprise
Mr Horace Mpanza, Regional Managing Director at Makini Schools, said that the facility will contribute to the holistic development of their learners. "We know that inside the classroom our learners are getting the best but we also need to have this outside the classroom as well. There are critical life skills that children can develop whilst doing sports," Mr Mpanza said.
Makini Schools commitment to build skills outside the classroom enables it to boast as the one of the schools representing Kenya at the annual United World Games in Austria and Germany. This year, the Makini High School swimmers clinched the top positions at the 2022 Kenya Secondary Schools Sports Association (KSSSA) National games and also scooped 51 medals at the Lifetime Age Group Development swimming series.
"Makini learners have over the years continued to be competitive in sports and have represented the country nationally and internationally," said Mr Mpanza. "Our goal is to ensure that this facility will enhance their ability to participate, train and therefore access more opportunities that would lead them to a happy and successful path in whichever sport they wish to excel in."
In accordance with Article 56 of the Constitution of Kenya, 2010 on minorities and marginalised groups, the facility will also be accessible to Persons with Disabilities (PWDs).
"Above all, to ensure the safety of students during construction, Makini Schools will cordon off the areas under construction, noisy work will be done after hours and on weekends. Trucks will only be allowed to access the school outside school hours. For further safety measures, there will also be a health and safety person on the site to monitor risk," he said.
Next Read >> Kenyan Schools Where School Fees Tops Sh1 Million