Low cost ISP deploys 200 internet access points in slums
In this short space of time, Poa! has already connected over 21,000 subscribers, many of whom could never have previously afforded to access the internet in any meaningful way
A low-cost Internet Service Provider (ISP) has now deployed over 120 access points in the Kawangware and Kibera slum areas of Nairobi. Many of these points are installed at schools, clinics and other community locations covering an area that is home to around one million low-income residents, of which approximately 200,000 are smartphone users. poa!'s service provides unlimited internet plans to the surrounding residents, offering them access from just Ksh 10 per hour or Ksh 50 per day, instead of the traditional data bundle pricing that charges people per Megabyte (MB).
Poa! Internet's unique business model, which the firm calls 'community Internet', has achieved monumental revenue growth of over 400% since the beginning of 2017. This in comparison to an industry average revenue growth of just 12% for the country's other ISPs, according to Communication Authority.
In this short space of time, Poa! has already connected over 21,000 subscribers, many of whom could never have previously afforded to access the internet in any meaningful way.
"Our business model has been structured in a completely novel way to open up real Internet access to low-income subscribers," said Andy Halsall, the Chief Executive Officer at Poa! Internet. "Our mission from the outset was to move the country's lowest income communities online, comprehensively and pervasively."
Some 53% of the Poa!'s subscribers currently buy the 1-hour data plan for Ksh 10 an hour while 45% buy the Poa! daily 24-hour plan for just Ksh 50.
"We also believe that by offering completely unlimited internet within these communities, we open new possibilities in the local institutions that are hosting our hotspots in accessing teaching materials and online research, communicating with patients, and providing online medical services, and new business opportunities for surrounding residents."
According to the management, close to 99% of all Poa! customers access the internet through mobile devices, attributed to the subsidised prices for smartphones in Kenya, which has seen the country achieve one of the highest smartphone penetration rates in the world.
In addition, the ISP has also created jobs for over 60 people from Kibera and Kawangware so far.
"Our model also focuses on employing people from these same areas to create new jobs as well, in areas where unemployment currently stands at 50 % or more,'' said Andy.
Poa! Internet also provides connections to local businesses such as cyber cafés and movie shops therefore generating more jobs again by enabling expansion of the local economy.
"I have been able to receive a minimum of 50 clients a day as compared to the 10 I used to get when using a modem from another Internet provider," said Alfred Ouma, who owns a cyber café at Zabibu Community Centre, in Olympic, Kibera.
Their internet is Wifi-based.
Malware sneaks into Google Play
It poses improved ability to bypass Google Play's protection mechanisms, according to ESET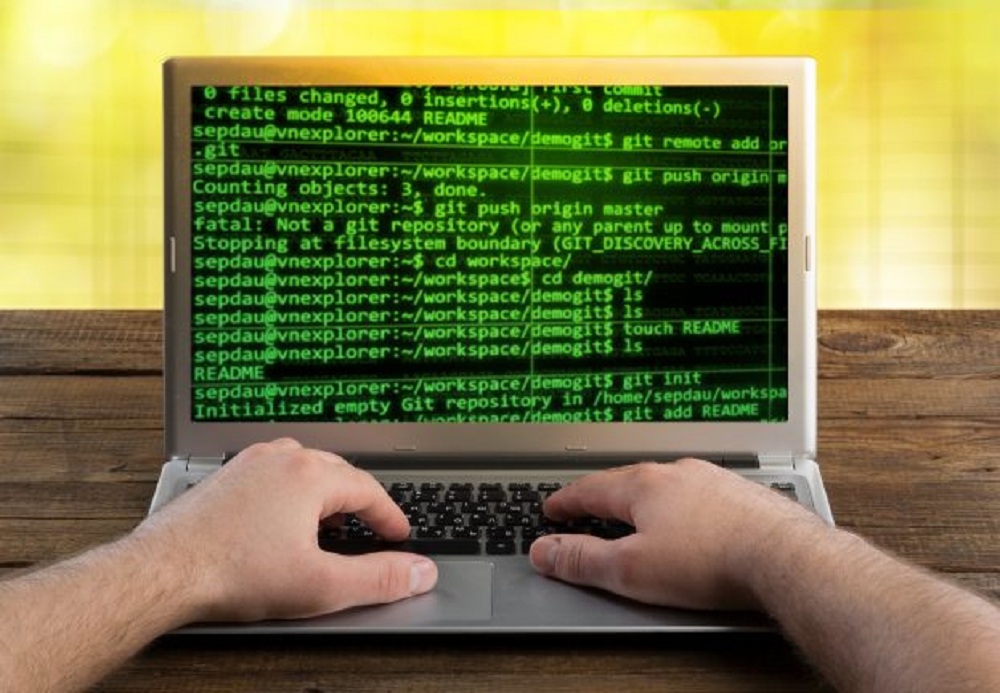 ESET, a leading global cyber security company, has discovered another set of malicious apps in the official Android app store.
Detected by ESET security systems as Android/TrojanDropper.Agent.BKY, the eight apps form a new family of legitimate-looking, multi-stage Android malware, and with delayed onset of malicious activity.
Eset has since notified Google's security team about the issue. Google has removed all eight apps from its store; users with Google Play Protect enabled are protected via this mechanism.

Figure 1 – Six of the multi-stage downloaders discovered on Google Play
Anti-detection features
None of the apps, that have advanced anti-detection features had reached more than a few hundred downloads. The malware samples all employed a multi-stage architecture and encryption to stay under the radar. After being downloaded and installed, the apps tended not to request any suspicious permissions and even mimic the activity the user expects them to exhibit.
Along with this, the malicious app also decrypts and executes its first-stage payload which in turn decrypts and executes the second-stage payload, which was then stored in the assets of the initial app downloaded from Google Play. The steps remained invisible to the user and served as obfuscatory measures.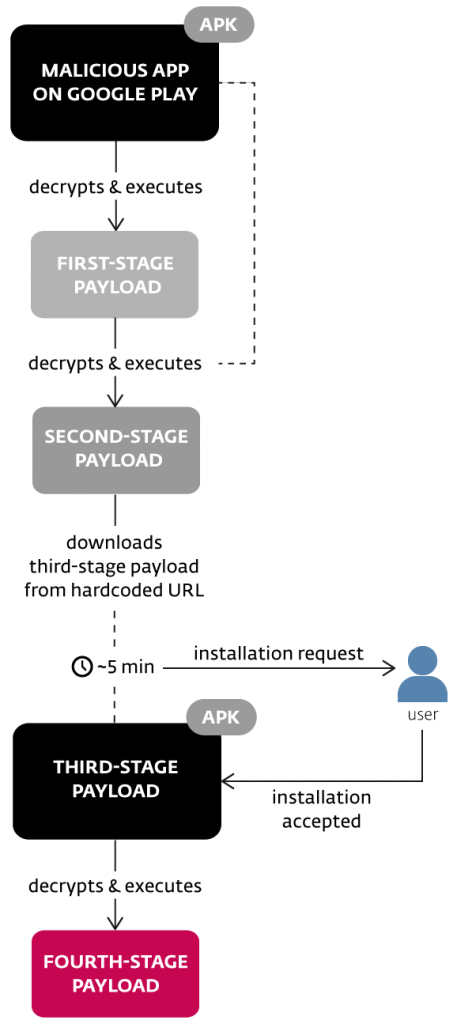 Figure 2 – Execution model of Android/TrojanDropper.Agent.BKY
The second-stage payload contained a hardcoded URL, from which it downloaded another malicious app (that is, the third-stage payload) without the victim's knowledge. After a pre-defined delay of approximately five minutes, the user was then prompted to install the downloaded app.
The app downloaded by the second-stage payload, disguised as well-known software like Adobe Flash Player or as something legitimate-sounding yet completely fictional – for example "Android Update" or "Adobe Update". In any case, the app's purpose was to drop the final payload and obtain all the permissions that payload needed for its malicious actions.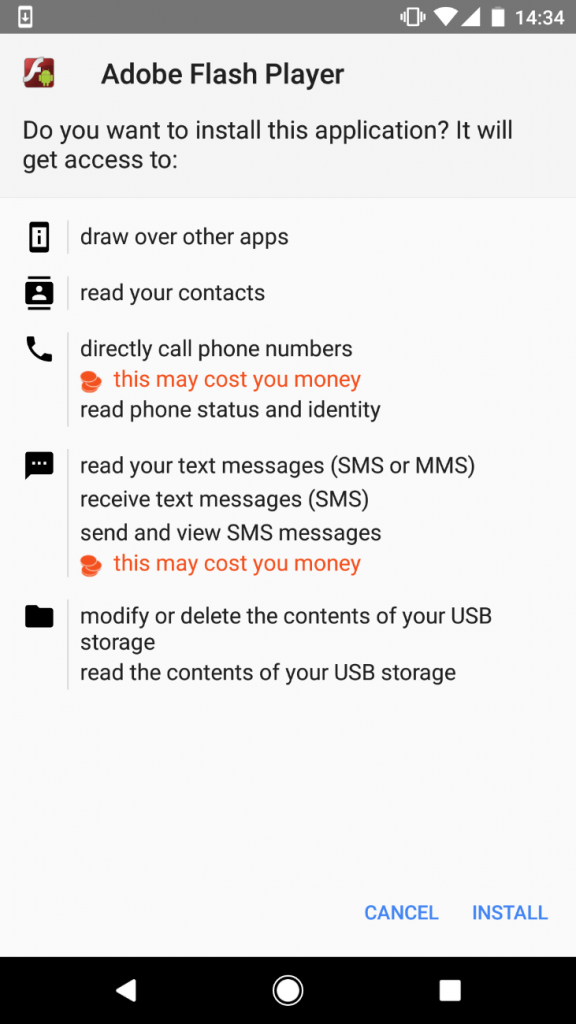 Once installed and having the requested permissions granted, the malicious app serving as the third-stage payload decrypted and executed the fourth-stage – and final – payload.
In all the cases investigated by ESET, the final payload was a mobile banking trojan. Once installed, it behaved like a typical malicious app of this kind: with potential to present the user with fake login forms to steal credentials or credit card details.
One of the malicious apps downloaded its final payload using the bit.ly URL shortener. Thanks to this, ESET was able to obtain download stats: as of November 14, 2017, the link had been used almost 3000 times with the vast majority of hits coming from the Netherlands.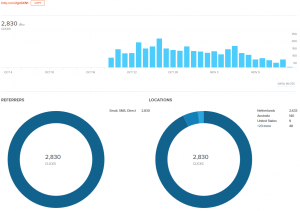 Figure 4 – Download stats for the final payload of one of the malicious apps, as of November 14, 2017
How to get rid of it
If you've downloaded any of these apps, you need to (i) deactivate admin rights for the installed payload, (ii) uninstall the surreptitiously-installed payload and (iii) uninstall the app downloaded from the Play Store.
To deactivate admin rights for the installed payload, go to Settings > (General) > Security > Device administrators  and search for Adobe Flash Player, Adobe Update or Android Update.
To uninstall the installed payload, go to Settings > (General) > Application manager/Apps and search for the particular apps (Adobe Flash Player, Adobe Update or Android Update) to uninstall them.
To uninstall the malicious app downloaded from the Play store, go to  Settings > (General) > Application manager/Apps and search for apps going by the following names: MEX Tools, Clear Android, Cleaner for Android, World News, WORLD NEWS, World News PRO.
Note that the settings structure may vary slightly depending on Android version.
How to stay protected
Unfortunately, multi-stage downloaders, with their improved obfuscation features, have a better chance of sneaking into official app stores than common Android malware does. Users who want to stay protected should not rely fully on the stores' protections; instead, it's crucial for users to check app ratings and comments, pay attention to what permissions they grant to apps, and run a quality security solution on their mobile devices.