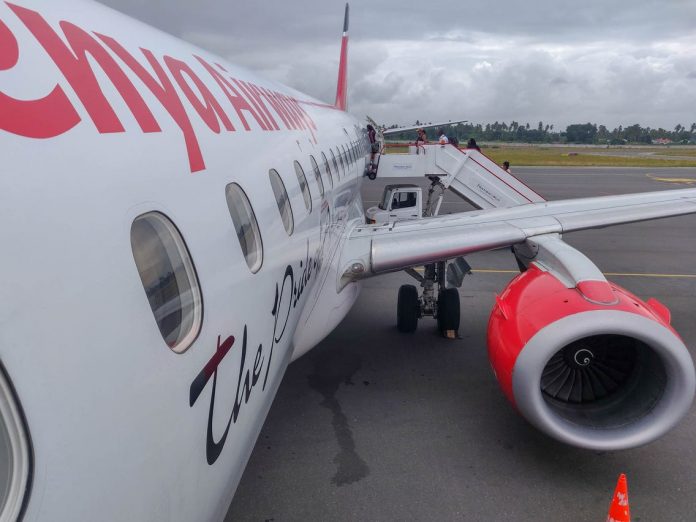 Kenya Airways has signed a codeshare agreement with Italy's state-owned flag carrier ITA Airways.
The agreement will see Kenya Airways customers seamlessly access a number of destinations in Europe. Cargo will also be transported on the routes.
As part of the codeshare agreement, flights from Nairobi will connect to 13 destinations in Italy: Brindisi, Bologna, Bari, Catania, Genoa, Lamezia Terme, Napoli, Palermo, Reggio Calabria, Torino, Trieste, Venice, and Verona, through three European gateway destinations: Amsterdam, Paris, and London.
KQ which is banking on a ksh146 Billion government bailout to find its footing again is counting on the codeshare agreement to further boost its growth prospects. The State chose to drop an earlier plan to fully nationalize KQ.
The suspension from trading KQ shares at the Nairobi Securities Exchange (NSE) was on Tuesday, January 4, 2022 extended by a year. NSE noted that the company's operational and corporate restructure was ongoing stating that the government is expected to give a clear direction on its buy-out or bail-out.
"The suspension was approved and issued by the Capital Markets Authority (CMA) pursuant to section 11(3) (w) of the Capital Markets Act and regulation 22 of the Capital Markets (Securities) (Public Offers, Listings and Disclosures) Regulations, 2002. The extension of suspension from trading the company's shares will remain in force for an additional twelve months, with effect from January 5th, 2022," said NSE.
The airline's recovery strategy has also been negatively impacted by the Covid-19 pandemic.
Julius Thairu, chief commercial and customer officer at Kenya Airways, stated: "The new codeshare agreement between Kenya Airways and ITA Airways will give our customers significantly more choice and flexibility, allowing Kenya Airways to strengthen its global presence and build on its strong customer base across the continent."
"Partnering with ITA Airways represents yet another major step on our growth trajectory, and we hope to deliver more commitments like this to our customers in the very near future," Thairu added.
Kenya Airways sees partnerships and consolidations as a key part of its future. Another partnership signed with South Africa Airways (SAA) in November 2021 established a framework for the establishment of a Pan-African airline group in 2022.
The move is intended to boost KQ's ability to compete, according to KQ CEO Allan Kivuka who in a March 2021 radio interview stated that KQ was "too small to compete" adding: "We need scale to survive the future and reduce costs."