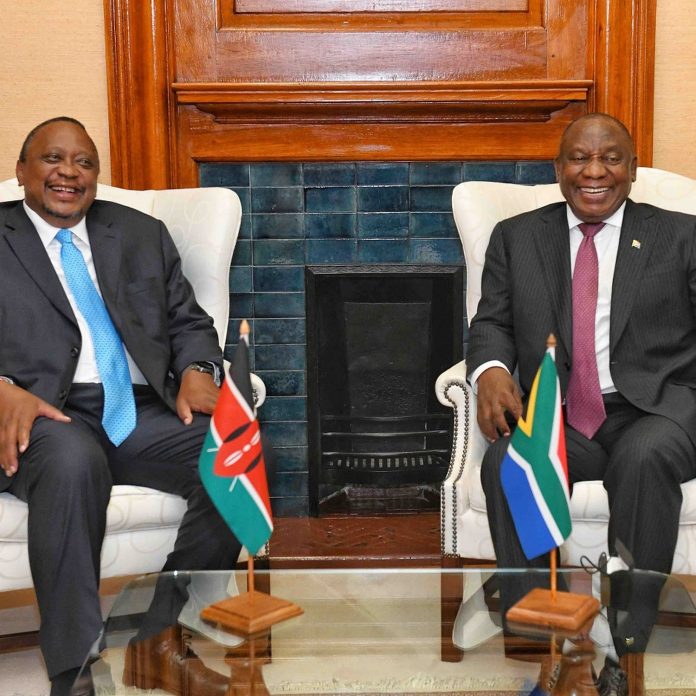 Kenya Airways and South African Airlines have inked a strategic partnership framework for the establishment of a Pan-African Airline Group in 2023.
The agreement is among deals signed during President Uhuru Kenyatta's ongoing visit to South Africa. Among other events, Uhuru and his South African counterpart Cyril Ramaphosa led the South Africa-Kenya business forum.
With both airlines reporting losses in recent years, it is hoped that the establishment of the Pan-African group will boost the commercial viability of both Kenya Airways and SAA. The partnership is also expected to drive growth in trade and tourism among other sectors.
President Uhuru Kenyatta has been pushing for Visa-free travel for Kenyans to South Africa and the elimination of other trade barriers. He and Ramaphosa announced the formation of a joint Presidential taskforce to address visa-related issues between Kenya and South Africa within six months.
President Kenyatta's message calling for Africa to take a fresh look at colonial-era borders that define countries on the continent had sparked heated conversation in South Africa including on social media, with some backing him while others opposed the idea. Herman Mashaba-led ActionSA, which vouches for South Africa-first policies made progress in recent municipal elections in a country where immigration is a big topic.
Kenya Airways Chairman Michael Joseph welcomed the agreement noting that it would help drive the African Continental Free Trade Area (AfCFTA).
"This cooperation aligns with Kenya Airways' core purpose of contributing to the sustainable development of Africa and is based on mutual benefits."
"It will increase connectivity through passenger traffic, cargo opportunities, while enhancing the implementation of the Africa Continental Free Trade Area Agreement (AfCFTA)," he stated.
The government has been pursuing nationalization for KQ, which has cited a multi-billion shilling bailout as the only way they can stay afloat. SAA, on the other hand, only came out of bankruptcy in November 2021.
Bilateral trade between the two countries is heavily skewed towards South Africa. Ramaphosa committed to setting targets to boost South African importation of Kenyan goods.