Kenya Electricity Generating Company (KenGen) has booked  Ksh440.34 million revenue from the execution of a commercial consultancy and drilling services contract signed with Ethiopia's Tulu Moye Geothermal Operations.
KenGen Managing Director Rebbeca Miano revealed the earnings in the latest annual report. The earnings were booked by KenGen Ethiopia – the branch set up in 2019 to facilitate drilling of geothermal wells in Ethiopia.
The firm has found a new revenue stream in international contracts around the continent – and in February announced a deal worth Ksh709,822, 630 (USD 6,452,933) to drill three geothermal wells in Djibouti.
The operations are a key part of the organization's diversification strategy – representing a shift away from reliance on revenue from generating and selling electricity to distributors such as Kenya Power and Lighting Company (KPLC). Miano disclosed that KenGen was planning to undertake drilling services for another project in Ethiopia – Aluto-Langano.
"The company enhanced its revenue diversification venture through drilling services in Tulu Moye, Ethiopia. The new venture has injected additional revenue of Sh440 million in the year," she stated.
In 2019, KenGen won part of a Sh7.6 billion contract to supply geothermal drilling services to the Ethiopian Electric Power (EEP).The firm also won a Ksh5.2 billion tender to drill geothermal wells in Ethiopia in the same year.
The Djibouti deal was the third geothermal drilling contract won by KenGen in Africa. The firm has in recent times leveraged their experience and expertise to offer international consultancy services and execute drilling contracts. It is eyeing similar contracts in Rwanda.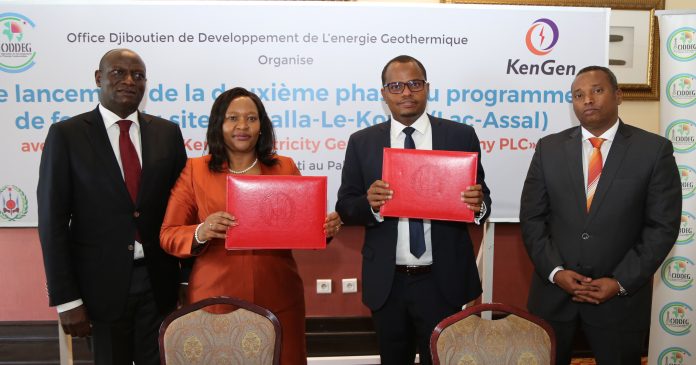 Notably, Kenya is Africa's number one geothermal energy producer and among the top 10 in the world.  KenGen has a geothermal installed capacity of 706 MW and is the leading geothermal power producer on the continent.
Other elements of the diversification plan include the commercial treatment and bottling of drinking water following the commissioning of the Gitaru Water Drinking Plant and the KenGen Calibration Centre.
It also aims to slash importation costs for geothermal drilling detergent by establishing its own plant in the country.