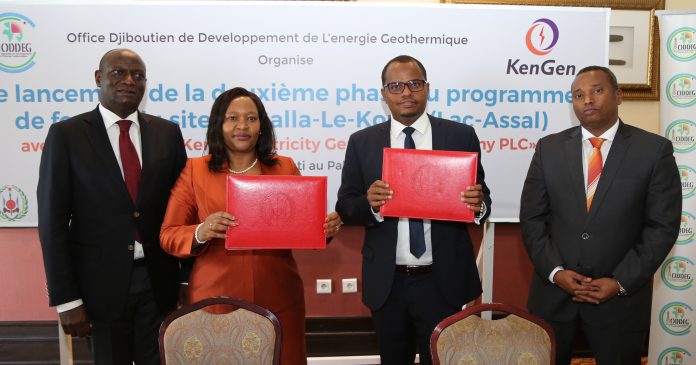 Kenya Electricity Generating Company (KenGen) on Thursday, February 11 bagged its latest international contract, this time to drill geothermal wells in Djibouti.
The deal worth Ksh709,822, 630 (USD 6,452,933) was signed with Office Djiboutien De Development De lenergie Geothermique (Djiboutian Office of Geothermal Energy Development) (ODDEG) in a ceremony attended by Energy Cabinet Secretary Charles Keter, Djibouti Minister for Energy, Yonis Ali Guedi and KenGen CEO Rebecca Miano among other high-ranking officials.
In recent years, KenGen has found a steady new revenue stream leveraging their experience and expertise to offer international consultancy services and execute drilling contracts. The Djibouti deal was the third geothermal drilling contract won by KenGen in Africa.
In October 2019, the company secured a Ksh5.8 billion contract to drill 12 geothermal wells in Ethiopia. The contract with an independent power producer includes installing a water supply system and equipment.
In February 2019, KenGen secured yet another contract for consultancy services and drilling geothermal wells. The contract is worth about Kshs 7.6 billion (USD 76,801,344). It has also pursued partnerships with Rwanda and Ethiopia in renewable energy development.
Speaking during the signing ceremony in Galla Le Koma, Djibouti, Keter welcomed co-operation between African countries in energy as they often face the same challenges.
 "The biggest challenge has remained access (to electricity) in remote areas, and in Sub-Saharan Africa with 573 million people not having access to this important commodity.
"Although energy access policies have continued to bear fruit, with 2019 data showing tremendous progress, we have seen the Coronavirus pandemic reverse the gains. We can only remain optimistic that things will change in 2021," he stated.
Keter reflected on Kenya's journey in harnessing geothermal power which started in the 1950's, and praised gains made in increasing access to electricity around the country.
"To date, we have drilled more than 300 wells within the Olkaria field, which is the bedrock of Kenya's geothermal energy production. As a country, we have a geothermal energy potential of 10,000MW along the Rift Valley with the resource being harnessed in 23 sites,"  he noted.
Miano expressed confidence that the three wells to be drilled in Djibouti would go a long way in boosting their energy production capacity.
Notably, Kenya is Africa's number one geothermal energy producer and among the top 10 in the world.  KenGen has a geothermal installed capacity of 706 MW and is the leading geothermal power producer on the continent.