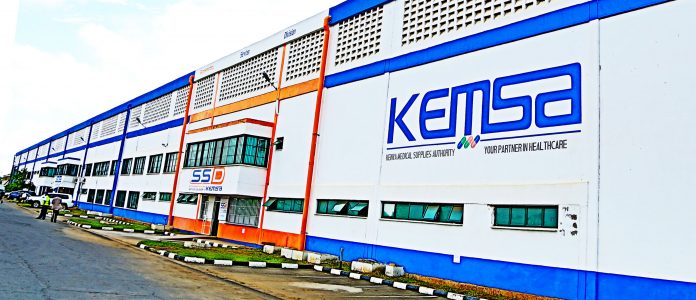 The Board of the Kenya Medical Supplies Authority (KEMSA) has sent home all the non-core employees of the agency for 30 days as the government kicks in a restructuring process.
The agency currently employs around 800 Kenyans at its headquarters in Embakasi, Nairobi, against an approved staff size of 341.
During the period, KEMSA chairperson Mary Chao Mwadime said that the employees will undergo an appraisal, which could see hundreds retrenched.
"The release of all staff to work from home is a procedural formality to facilitate the review of the organisational structure and will be undertaken expeditiously to ensure that the staff complement is fit for purpose and within the approved staff establishment levels. Attendant sensitivity and empathy will be maintained as the Board is committed to ensuring a smooth review," said Mwadime.
"All staff will be engaged and appraised throughout the notice period."
In early July, a multi-agency task force was formed to provide an independent operating recovery strategy for KEMSA to facilitate organisational effectiveness. The KEMSA Immediate Action Plan and Medium-Term Reforms Working Committee (KIAPRWC) comprised a panel of local public service administration experts backed by international counterparts drawn from the World Bank and the Africa Resource Centre.
KIAPRWC had been tasked to review the current organisational structure to determine its efficacy, as well as review current staff establishment and staffing norms.
The task force was also mandated to establish if the current career guidelines were responsive to the current client needs and mandate of KEMSA and also review the KEMSA Reforms Implementation Committee (KRIC) reports and take into account the immediate action report thereof.
In its report, the task force confirmed that KEMSA is currently grossly underperforming and largely unable to meet clients' urgent needs, particularly the delivery of essential Medicines and Products to the Counties, Referral Hospitals and Programs.
The task force also discovered that KEMSA is knee-deep into financial c****s due to a lack of financial controls, with a debt c****s arising from structures that are not optimised to collect.
"As the review gets underway and in compliance with legal requirements governing labour management, the Board has issued General Notice Letters to all staff working with KEMSA this morning. As per the General Notice Letters issued, all non-core staff members have been released to work from home with immediate effect as the necessary consultations progress. The core operating teams under a caretaker management team have been notified, appointed and mobilised to ensure seamless operations in the intervening period. The Board confirms that the necessary interventions have been put in place to avoid undue disruptions to service delivery and day-to-day operations," added Mwadime.
During the period, the National Youth Service (NYS) officers have been mandated to keep running operations of the agency.
Read: KEMSA Assures County Governments of Prompt Services
>>> KEMSA to Exorcise Ghosts of Covid-19 Graft With New Procurement Measures