A job advert being shared online promising jobs at the Kenya Ports Authority (KPA) is fake.
The advert shared in a Facebook group named Kakamega County Jobs Connection called on applicants to apply for positions such as internal auditors, human resource managers, lab technologists, drivers and cleaners, among other positions.
According to the advert, applicants were to make applications through the email account [email protected].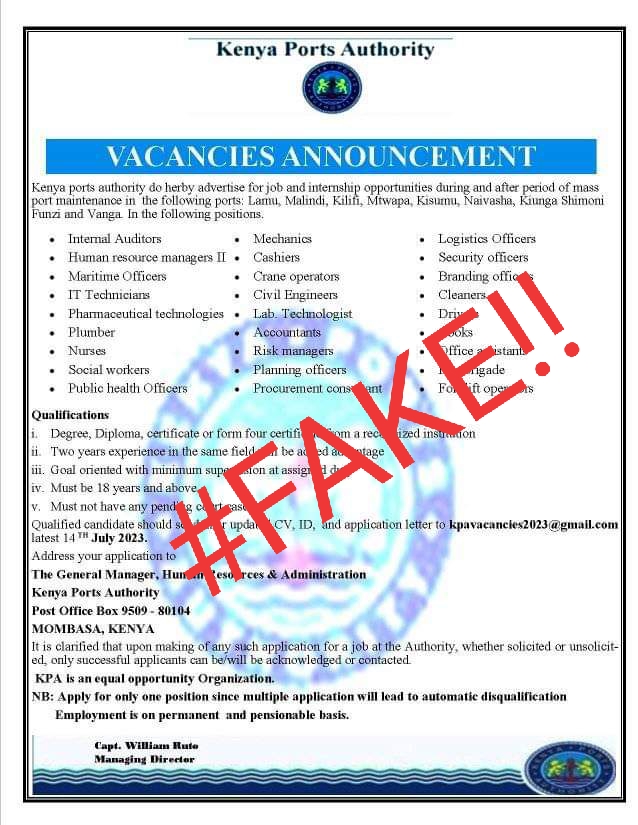 Business Today investigated the job advert and found it to be fake.
On the vacancies section on the KPA website, the parastatal had not listed the said vacancies. Also, KPA listed four email accounts as its official emails, including [email protected], [email protected], [email protected] and [email protected].The Gmail account appearing on the advert was not listed on KPA's official website.
The advert also gave the wrong postal address (9509-80104 Mombasa), as KPA's postal address, as indicated on its website, is 95009-80104 Mombasa.
In a post on its official Facebook account, KPA flagged the advert as fake, stating that available vacancies are advertised on its website.
"Jobs scam alert!! Kindly ignore this fake advert. To check on available vacancies at KPA, please visit www.kpa.co.ke," KPA stated.
The advert calling people to apply for jobs at Kenya Ports Authority is, therefore, fake.
This fact check was published by Business Today with support from Code for Africa's PesaCheck and African Fact-Checking Alliance.