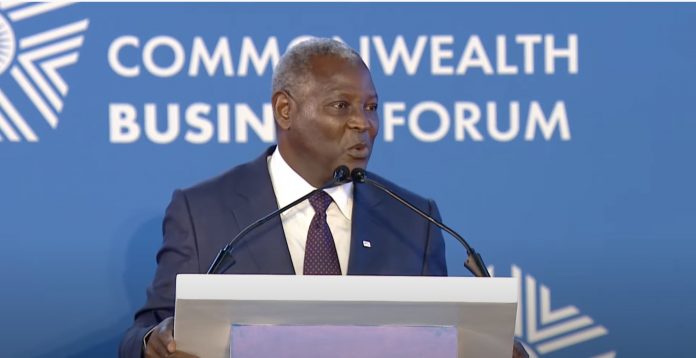 Equity Group CEO James Mwangi on Tuesday, June 21st delivered the keynote address at the Commonwealth Business Forum held in Kigali, Rwanda. He used the opportunity to lay out a 4-point plan intended to transform Africa and its economy in the post-Covid world.
Mwangi disclosed that the plan was developed in consultation with leading experts from various public and private sector bodies, including the International Finance Corporation (IFC) and the East African Community (EAC).
Reiterating that Covid-19 upended the existing global social and economic order, Mwangi referenced the 'global reset' multiple times as he called for the charting of a new path in which Africa is fully involved at the decision-making table.
He emphasized that the goal of the plan was to deliver shared prosperity and equal opportunities as well as a sustainable future.
"The world needs to recognize that we as leaders are holders of the world in trust for future generations and we must leave it better than we found it," he asserted. Mwangi went on to break down the plan which focuses on the economic transformation of Africa.
The five points around which the plan is built on are;
1. Agricultural Productivity
Mwangi stated that it was time Africa stopped reiterating the often-cited statistic that it has 60% of the world's arable land and instead get to work to ensure its productivity. Africa remains a major importer of food, as has been highlighted by the effect of the Russia and Ukraine situation on food prices and supply in Africa.
He called for concerted efforts, including investment and adoption of technology, to drive increased food production on the continent.
2. Mineral Resources
Highlighting the fact that Africa holds vast mineral resources, Mwangi called for deliberate efforts to drive a shift towards manufacturing of finished products on the continent as opposed to exporting raw materials.
He called for massive investment to make this a reality, stating that the move would create millions of jobs and increase tax revenues 30 to 40-fold.
3. Youth and Women
Mwangi noted that youth and women in Africa were the drivers of Micro, Small and Medium-sized enterprises which play a major role in African economies.
He called for MSMEs to be supported to play a bigger role in key value chains including agriculture, mining, trade and investment. He also maintained that it was crucial to adopt technology, knowledge and science to accelerate growth.
4. Environment and Sustainability
Mwangi maintained that businesses needed to take social impact seriously, as well as efforts to conserve the environment and ensure sustainability.
He also threw his weight behind the use of clean energy.