The insurance industry posted a 6% growth in gross premiums to Ksh229.5 billion in 2019 compared to the Ksh216.3 billion recorded in 2018, the Insurance Regulatory Authority (IRA) annual report for 2019 shows.
Captured in the report released on Friday is an increase in the industry asset base which grew by 11.7% to Ksh 709 billion in 2019 from the Ksh635 billion recorded in 2018.The asset base was largely composed of investments at 83.8%.
Investments increased by 13.3% from Ksh524.24 billion in 2018 to Ksh594.03 billion at the end of the year under review.
The investments were mainly composed of government securities at 61.6% (Ksh365.82 billion), investment property 14% (Ksh83.2 billion), ordinary shares 9% (Ksh53.5 billion), and term deposits 9% (Ksh53.5 billion).
During the period, the industry net profit increased significantly by 108.0% from Ksh7.27 billion to Ksh15.12 billion in 2019.
Nairobi County accounted for 83.2% of the total gross direct premium. The County has consistently accounted for the highest industry premium since 2015.
During the year, the county posted some Ksh99.6 billion from general business and Ksh88.3 billion from life business to take the capital city's total revenue from the insurance business to Ksh187.9 billion.
Mombasa County came in second posting Ksh8.5 billion (general business), Ksh2.2 billion life business totaling to Ksh10.7 billion an indicator of the concentration of business in Nairobi.
Conversely, 52.6% of the total industry premium was sourced through insurance agents, 33.2% through insurance brokers, and 14.1% directly.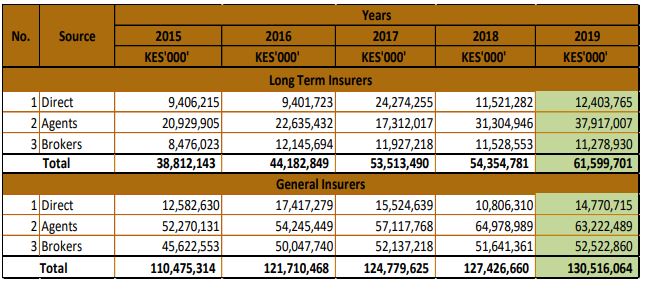 Speaking during the release of the report in a virtual press conference on Friday Godfrey Kiptum said that preliminary projections for the sector for the current year show that business will be greatly affected by the COVID-19 pandemic.
"Its still to early to come up with definitive figures but the industry will obviously be affected by COVID-19. For instance motor vehicle insurance has taken a hit from the now lifted ban on inter-county movement," said Mr Kiptum.
Kenya was also ranked as the third most resilient insurance market in Africa behind South Africa and Morocco.
South Africa accounts for 69.1% of the African market share, Morocco (6.8) and Kenya (3.3)
Insurance penetration, which is the ratio of gross direct insurance premiums to the Gross Domestic Product (GDP), declined to 2.34% in 2019. The world average insurance penetration stood at 7.2%.
Insurance density, which is the ratio of gross direct insurance premiums to the total population, increased from Ksh4,525 in 2018 to Ksh 4,788 in 2019 indicating an increase in spending on insurance.