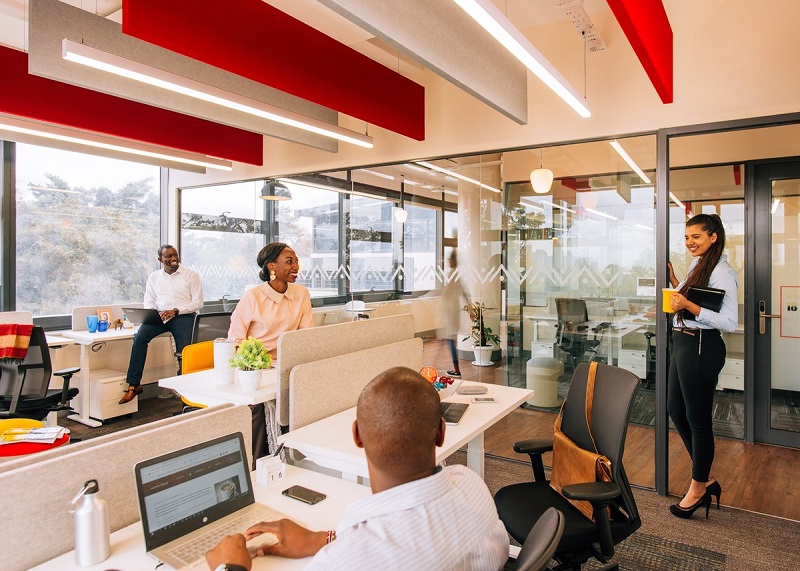 Workable Nairobi, a commercial serviced office provider, has launched a new state-of-the-art corporate coworking hub at Sanlam Tower on Waiyaki Way, Westlands.
The 12,000 square feet facility has 19 private office studios that can accommodate 110 people in a variety of flexible configurations, two meeting rooms, an in-house full service café and an all-weather events terrace.
Workable Chief Executive Officer Samir Patel said the ultra-modern facility is designed to match the international demand for corporate coworking spaces that have productivity and employee wellness at their core. The global shared office industry is estimated to be worth over US$100 billion and has recorded astronomical growth in major cities on all continents since 2005.
"For most observers, the coworking industry is associated with freelancers, startups and small businesses. However, today the biggest growth in the industry is from larger firms and their employees. In fact, close to 20% of the S&P 500 companies in the US now have employees operating from coworking spaces," explained Mr Patel.
A new report by CBRE, the world's largest commercial real estate firm and a Fortune 500 company, projects a worldwide accelerated growth of flexible office spaces in 2019 on the back of impressive demand in 2018.
In Asia Pacific, the CBRE research says, over 80% of flexible office leasing was new and expansionary demand while in the USA their share of major leasing activity through the first three quarters of 2018 doubled compared with full year 2017. In Europe, the sector is most mature in London, with rapid growth in major cities like Paris, Madrid and Amsterdam.
The same global movement in the shared office industry has experienced rapid growth in Kenya over the past decade, with tech firms occupying most of the spaces in Nairobi. An influx of multinational business and non-governmental organizations as well as maturing startups has propelled demand for spaces that can accommodate their need for expansion, while still offering the same vibrancy of shared offices.
"Corporations are looking to align their real estate portfolios with broader business goals. Adopting the 'space-as-a-service' strategy is one way to deliver both cost management and greater flexibility where you pay for space and services such as meeting rooms on demand," Mr Patel said.
Using a shared office space takes away the headache of binding long-term lease agreements, capital expenditures for set-up and provision for expansion or contraction as well as maintenance costs.
"Workable offers a solution to the modern organization that seeks to provide employees with personalized and amenity-rich working environments which has been found to improve productivity. Businesses globally are reassessing their real estate needs, generally reducing their office footprints, with many adopting a core + flexi approach. We are the flex portion allowing elasticity depending on the real time office needs of that business," he added.
He was referencing a research quoted on the Harvard Business Review by three University of Michigan professors that found employees who belong to coworking spaces thrive more than their counterparts in regular offices. Their reasons included the vibrancy of a coworking place that houses employees of different companies from diverse backgrounds and corporate cultures, feeling part of a large community and the flexibility of the working environment that allows them to work from an office desk, a collaborative space or an open public place.
"Workable is Nairobi's prime shared office space with Grade A flexible studios and many features that are a first in Kenya. The primary target is global enterprises and non-governmental organizations in Nairobi as well as large local firms with significant office needs. Our target user is a well travelled professional who has been exposed to a variety of experiences, countries and cultures both professionally and personally," he added.
Read: Uhuru likely to reappoint Njoroge as CBK boss
Each of the studios is furnished with electric sit-stand desks, class-leading sound insulation, individual temperature control and high speed internet provided on isolated virtual networks (VLAN) to assure data security. A Wellness Room fitted with a fridge is accessible to all users and will be especially useful for nursing mothers.