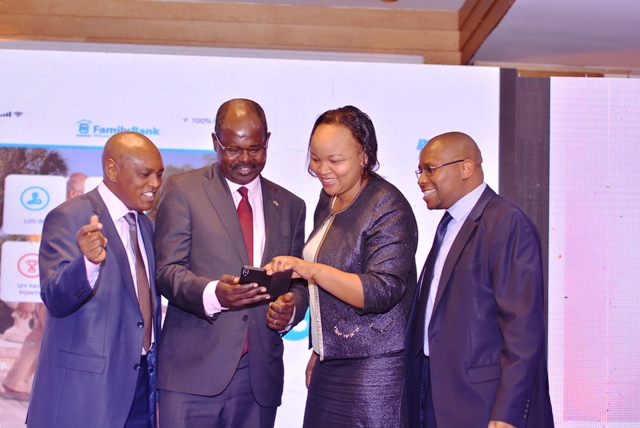 Family Bank customers and non-customers to the Bank will now access instant loans and also set investment goals for periods between three to 12 months, earning attractive interest.
PesaPap offers consumers access to instant loan disbursements and repayments, as well as banking services such as funds transfer to accounts and mobile money wallets, bill payments, airtime purchase, scheduled payments, PesaLink, amongst others.
"With 65% of our bank transactions now via digital, up from 46% in January 2016 and with an 18% growth in mobile banking in 2017 compared to 9% in 2016, it is our strategic intention and focus to invest more in technology and aggressively drive efficiencies through IT," said Family Bank's MD & CEO Dr David Thuku during the launch of the application.
"We believe that the revamped PesaPap will meet the increasing demands of the modern-day consumer whilst keeping pace with emerging technology to further deepen financial inclusion," he added.
According to FSD Kenya, over six million Kenyans have gained access to technology that can deliver micro-loans within seconds and build credit history that can give them access to higher and cheaper loans in the future.
Kenya Bankers Association (KBA) CEO Dr Habil Olaka says the banking sector will grow by adopting modern financial technology which will improve efficiency and spur economic growth.
Customers can now register and activate PesaPap without the need to visit any physical bank branch or fill out forms.
READ: CUEA GETS NEW VICE CHANCELLOR
PesaPap can be accessed by dialing USSD code *325# or by downloading the PesaPap app available on Google Play Store and Apple Store.