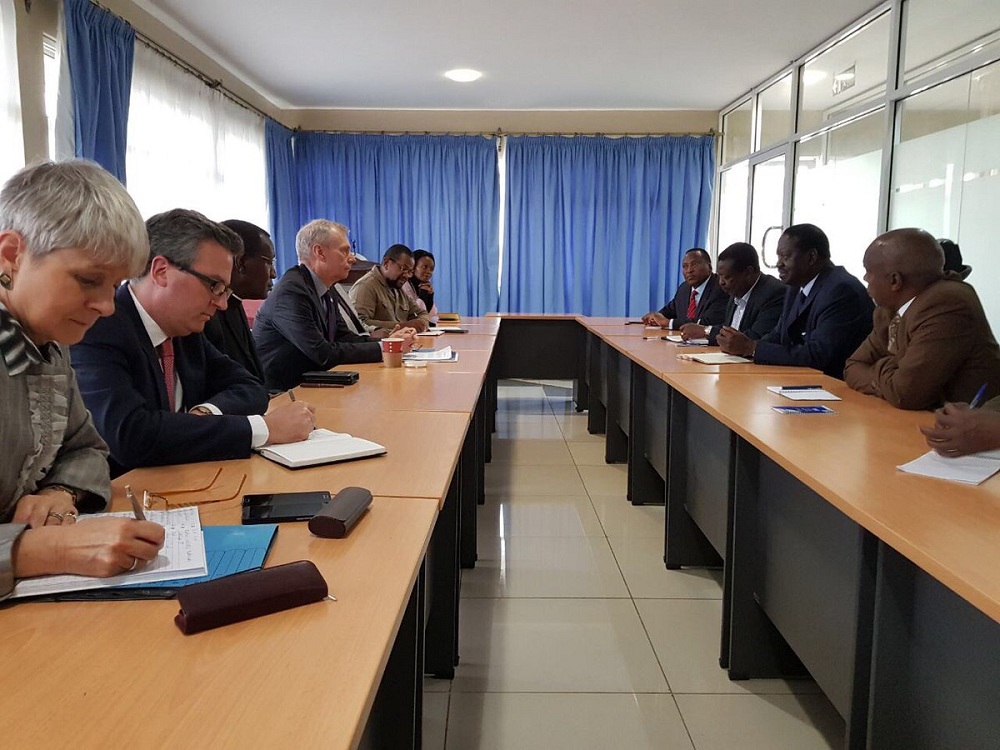 Foreign envoys accredited to Nairobi Friday morning met with the NASA leadership led by Raila Odinga where they urged them to engage in open, transparent national conversation to settle the political standoff currently rocking the country.
Also in the meeting were religious and business leaders. The diplomats were led by United States ambassador Robert Godec and United Kingdom High Commissioner Nic Hailey.
"Religious & business leaders & diplomats met NASA leaders today. Urge government, opposition & all Kenyans to engage in open, transparent national conversation to address underlying issues & strengthen institutions to help Kenya. Stress need to uphold Constitution," Godec tweeted after the meeting.
The discussions came a day after Raila lambasted Western capitals for urging NASA not to proceed with the plan to swear him in as President on Tuesday as it would be a violation of the Constitution.
He accused the West and especially its envoys in Kenya of urging them to move on and yet they never raised a finger over the malpractices that clouded this year's presidential election and the violent crackdown on his supporters by security agents that left several of them dead.
"Our friends can give us advice, give the advice in private. Do not come and shout at us and tell us we are going to violate the Constitution. Which constitution my foot!" he posed.
Even as Raila met the envoys, NASA was putting in place final touches on the planned swearing in ceremony, which Attorney General Githu Muigai says will be a treasonable act, by releasing a programme of the day tailored along style of national events.
According to the schedule released by the People's Assembly organising committee at the Okoa Kenya offices in Lavington, Nairobi, the day will start with the singing of the National Anthem.
This will be followed by prayers  and then an official announcement.
Delegates will then reach an agreement on the agenda of the day after which Raila will be installed as the "people's leader" and then speeches.
This will be followed by an agreement on the People's Assembly and the speeches by county representatives and then an agreement on the resolutions. The climax of the day will be rallies to be addressed by NASA leaders.
However, the venue of the meeting remains a top secret with the Opposition outfit writing to 12 governors to avail a venue for Raila's "installation."