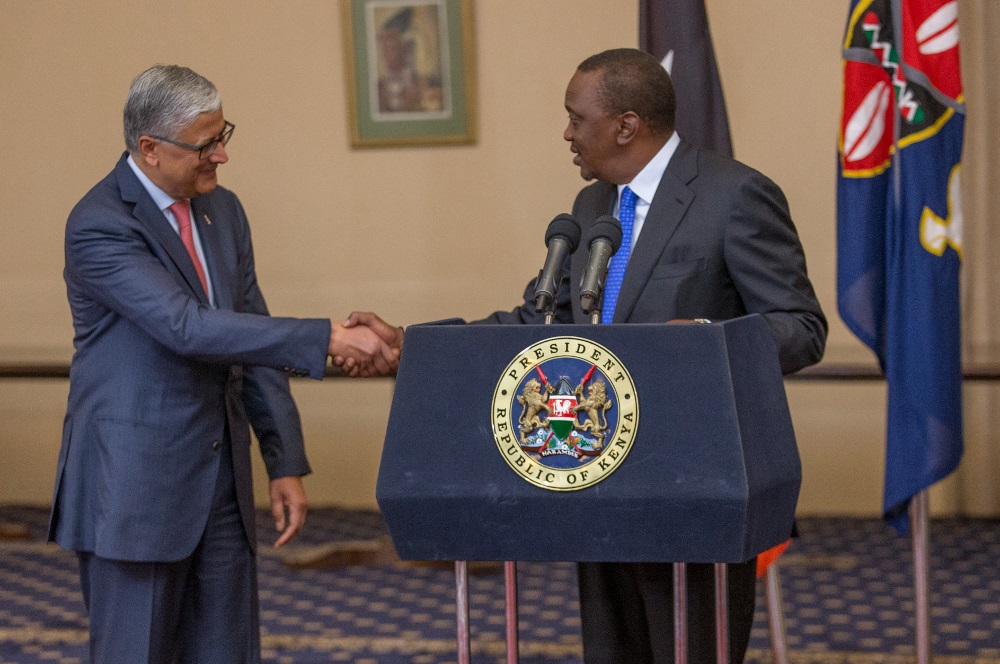 East African Breweries Limited (EABL) is set to open a new beer brewing plant in Kisumu at a cost of Ksh15 billion. The announcement was made today by President Uhuru Kenyatt following a commitment by Mr Ivan Menezes, the CEO of Diageo, in a meeting at State House Nairobi this morning.  EABL is a subsidiary of Diageo.
Construction of the Kenya Breweries Ltd (KBL) plant, which will produce Senator beer brand, will be launched on 16th July 2017, and is projected to start operating within the next 18-24 months. The investment, the single largest in decades, is expected to open a significant socio-economic lifeline for the Nyanza region and Kenya at large, creating over 100,000 direct and indirect jobs.
The State House meeting was also attended by Diageo Africa President John O'Keeffe, EABL Group MD, Andrew Cowan and KBL MD Jane Karuku, among others.
"This multi-billion-shilling commitment by the EABL underlines the strong confidence driving local and global investors in Kenya with significant multiplier effects to the Kenyan economy in future," said President Kenyatta.
See Also: Kenya's most expensive banks led by Barclays and Equity
"I'm especially delighted by the projected benefits resulting from this investment, potentially doubling the demand for sorghum and millet in Kenya and recruiting over 15,000 farmers in the process with guaranteed market for the crop."
Mr Menezes said the Ksh15 billion investment in a new brewery for Senator Keg underlines its long-standing commitment to Kenya, which expands Diageo's incremental capital investment to Ksh30 billion over the last five years. "Once complete, this brewery will increase the production capacity of the now iconic Senator Keg, which will in turn provide socio-economic benefits, including helping to reduce the consumption of illicit brews," said Mr Menezes.
The Kisumu facility, which will accommodate the new one, started operations in 1984 but was closed in 2002 due to improvements in beer-production technology that helped create excess capacity in beer production at the Nairobi brewery.
Next Read: New Holland brings a new monster tractor  to farms
The re-opening will help plug fresh demand for Senator, a hugely successful beer product launched in 2004, targeted at the low-end of the market. EABL has developed a robust value chain supporting Senator's production, and the latest investment will expand the number of contracted farmers from the current 30,000 to 45,000.
The Nyanza region climate is among the most conducive for sorghum and millet production and the proximity to the plant will benefit the local farmers more. Gross additional farmer earnings are expected to reach over Ksh6 billion annually over the next 10 years boosting rural economies.
[crp]