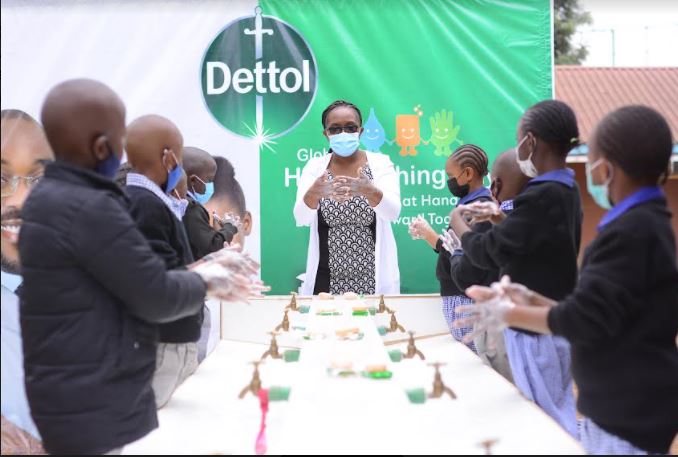 Reckitt through it's Dettol brand has partnered with the Ministry of E*******n to launch a handwashing campaign targeting 300,000 school-going children to urgently tackle the spread of coronavirus.
The 2021 campaign seeks to educate school children and members of the public on the importance of hand hygiene as an important measure to prevent d******s such as the coronavirus with a practical infection control mechanism. Celebrated every 15th day of October, this year's Global Handwashing Day's theme, "Our future is at hand, let's move forward together," aims to raise awareness of making soap and water available globally, especially in public places, schools, and health care facilities.
The World Health Organisation ranks diarrhea as the second leading cause of d***h in children under five years, k*****g 525,000 children under five years every year. According to a 2014 Kenya Demographic Health Survey, Kenya has a 15 percent national prevalence of under five years diarrheal d******s.
"Dettol has always been at the forefront of hygiene e*******n, and since 2015, we have reached over 2 million school children in Kenya with our hygiene e*******n. We have also provided some schools with hand washing stations and soap; this e*******n is very important as regular hand washing with clean water and soap or the use of sanitizers has been proven to be a good prevention against transmittable d******s such as Covid-19," said the Country Manager, Reckitt East Africa, Mr Asif Hashimi.
Over the past years, Dettol has partnered with the NGO Water.org to provide water to underserved communities in Kenya, and during the height of the Coronavirus p******c, the brand also partnered with the Kenyan Ministry of Health to provide public e*******n on proper hygiene practices.
Read: Dettol Maker Donates Soap to Help Fight Covid-19
>>> Dettol Even Tone honours Kenyan women