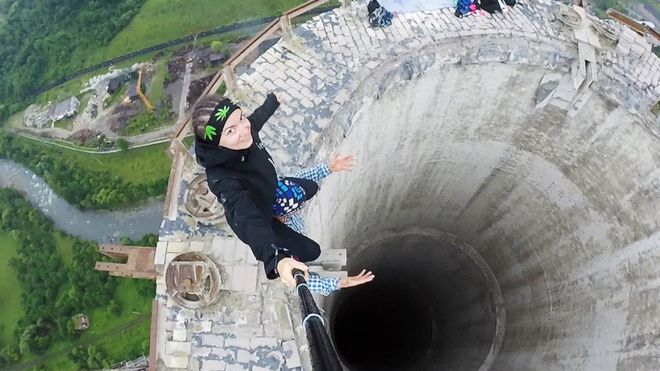 Disaster struck in December 2017, when a group of friends taking an adventure walk in Nakuru County lost one of their own who slipped and fell into a river while taking a selfie.
In September 2016, an Italian tourist at the Tsavo East National Park neared a group of elephants so as to take a selfie with them. One of the elephants charged at him inflicting injuries to which he eventually succumbed.
With the allure of selfies being propagated by the proliferation of Facebook, Instagram, Twitter and Whatsapp statuses, so too has the term selficide become a growing concern, as deaths caused by people looking to capture the perfect selfie are on the rise.
A report published by the Journal of Family Medicine and Primary Care has discovered that 259 people have died while clicking for a selfie since 2011. A further 137 incidents related to selfies were recorded in the research that was carried out by a group of Indian researchers.
The "Selfies : a boon or bane" report gleaned media reports from across the globe where taking selfies had caused incident or fatalities. Of the 396 cases found, the majority were among those aged between 20-29 years. This age group registered around 50% of the deaths caused by clicking for a selfie. The average age was 22.94 years, which corresponds with the 'selficide' that was recorded in Kenya last year.
"Selfies are themselves not harmful, but the human behavior that accompanies selfies is dangerous," said the report.
At 72.5%, males were the majority of the recorded selficides even though women take more selfies than men. The report reasoned that males are more likely to take risks in the pursuit of clicking for a selfie. In the deaths recorded, males had placed themselves in a risky situation prior to taking the selfie on 115 times, almost four times more the 27 risky positions that females had placed themselves in.
Drowning ranked highest as the cause of the fatalities in the unfortunate selficides, numbering 70 of the total deaths. Transport related incidents caused 51 deaths, while fires and deathly falls were responsible in 48 cases for each. Electrocution (16), firearm (11), animal (8) and other circumstances (7) rounded up the causes table.
"No selfie zones" areas should be declared across many tourist areas specially places such as water bodies, mountain peaks, and over tall buildings to decrease the incidence of selfie-related deaths.

"Selfies : a boon or bane" Report
Measured from October 2011 to November 2017, the report also found that cases of selficides have been growing over the years, from as low as three selfie deaths in 2011 and two in 2013 to now registering as high as 98 and 93 deaths in 2016 and 2017 respectively.
The report said that even though this is the highest number of deaths recorded by a study, the research was limited to English language media reports only and that in many cases, selfie deaths have been undereported due to the fact that the actual cause of death (road accident or drowning) is what is eventually reported.
SEE ALSO : SOFTWARE REVEALS IMPACT OF CRUEL WILDLIFE SELFIES ON SOCIAL MEDIA