Co-operative Bank of Kenya has become the second biggest bank on the Nairobi Securities Exchange, overtaking KCB Group whose share price continues to plummet. Co-op Bank's stock remained stable on Thursday, trading at Ksh11.85, giving the bank a market capitalisation of Ksh69.5 billion.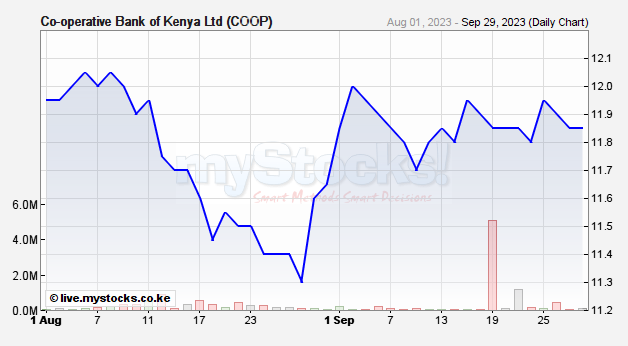 This effectively helped Co-op Bank to overtake KCB for the first time, according to an analysis by Business Daily, with a gap of Ksh2.3 billion. KCB's share price fell 4.78% on Thursday to close at a 52-week low of Ksh20.9, giving it a market value of Ksh67.1 billion.
These gains come as the bank rides a positive wave after reporting impressive results for the first half of the year. The Co-operative Bank Group reported a profit before tax of Ksh16.4 billion for the first half of 2023, representing a 7.4% growth compared to Ksh15.3 billion recorded in the first half of 2022. The financial results translate to a profit after tax of Ksh12.1 billion, 5.25% up from Ksh11.5 billion reported in 2022.
Co-operative Bank Group Group Managing Director and CEO Dr Gideon Muriuki said the strong performance was in line with the banking group's strategic focus on sustainable growth, resilience and agility.
KCB Group share price fall gained pace in recent weeks after it reported lower earnings and a surge in provisions for loan defaults in the half year ended June.
At the start of the year, KCB's market value was ahead of Co-op Bank by Ksh52.2 billion. KCB's relegation to third place came after it shed Ksh56 billion in paper wealth since the first trade of the year.
Over the same period, Co-op Bank has lost only Ksh1.4 billion. The bank has one of the lowest share price volatility among the country's publicly-traded lenders. Equity Group remains the most valuable bank at Sh135.6 billion despite losing Sh34.3 billion over the review period.
Read >> 6 NSE Stocks Minting Money For Investors Amid Rising Cost Of Living