An elderly woman in her late 70s braved a torturous court process in Kiambu where her three children have reneged on an alternative dispute resolution (ADR) in a case in which she is charged with selling land without involving her children.
Hannah Ngendo,78, accompanied by her granddaughter who also acted as her interpreter, disowned a document purported to have been written and delivered by her to the lands office in Kiambu. The court order is purported to have been signed by a former magistrate at Kiambu Law Courts, Mr Simon Arome, and constitutes one of the counts facing her.
Prior to the court session where the investigating officer Joseph Keter testified, Kiambu Senior Principal Magistrate, Ms Stella Atambo, advised the parties to settle the matter out of court and preserve their mother's dignity.
RELATED: IMPORTANT THING MANY PEOPLE IGNORE WHEN BUYING LAND
The son, aged 37 years, repeatedly told the court that the mother should be jailed for having sold her land without the consent from the family. The two daughters appeared to support him even after the magistrate said she could be sentenced to seven years imprisonment for the offence before her. The sisters are aged 39 and 41 and are both married.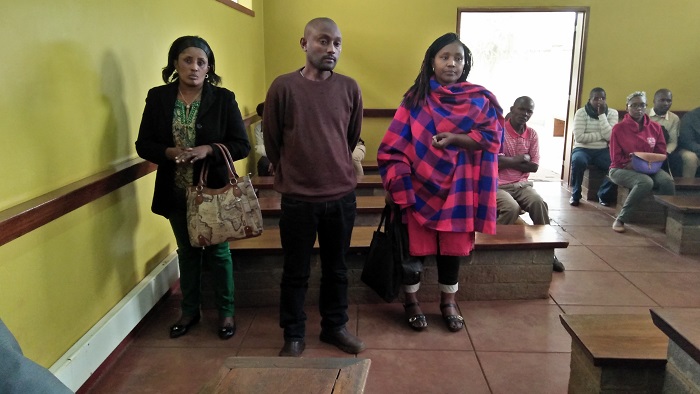 Ms. Atambo asked them if they were mothers and they replied in the affirmative. She then told them: "Go and think about this scenario of your mother standing in the dock because she sold her property because inheritance is not a right. When your parents educated you, they were giving you your mother's inheritance."
Fraudulent document
Mrs Ng'endo is charged that on July 11, 2013, she made a certain court order for removal of caution on land parcel No. KIAMBAA/THIMBIGIA 3366 purporting it to be genuine; issued by chief magistrate's court in Kiambu.She is also accused of uttering a fraudulent document removing a caution on the said land parcel. Ngendo, who took plea on March 6th 2017, is out on a surety bond of Ksh100,000.
SEE ALSO: PAYROLL MANAGER PAYS WIFE KSH8 MILLION IN SWEETHEART DEAL
On Friday, the investigating officer testified in court as the prosecution wrapped up its case against the accused. Keter told court that prior to the accused's attempt to sell the land, the entire family had appeared before the Environment and Land committee (ELC) where they appended their signatures to the land sale documents after which it was sold in the open with their consent without any coercion.
He, however, said that subsequently the family broke ranks leading to the charges against the granny. The case will further be mentioned on September 7. (Story by Lydia Shiroya / KNA)