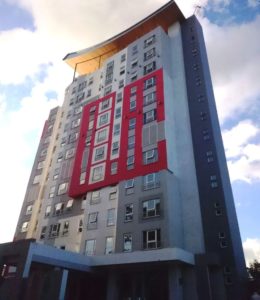 The opening of the budget Tune Hotels along Raphta Road in Westlands makes it the latest international hospitality chain to invest in Kenya. The 11-storey, 280-room facility which cost an estimated Sh2.9 billion will be operating on a 'no frills' model, where customers only pay for the amenities they use.
Tune Hotel Nairobi, which will be the brand's first hotel in Africa, is offering is offering five rooms at a special price of KSh995 per night to mark the hotel's entry into the Kenyan market from 18th July to 31st August, 2016. The rooms can be booked using the special promotion code PROMO995 at the hotel's website at www.tunehotels.com/nairobi.
Tune Nairobi's regular room rates will range between KSh5,000-KSh12,000 per night depending on how early guests book. A room in quality hotels in Nairobi costs between Ksh9,000 and Ksh30,000 per night.
"The potential for budget hotels is big and the supply does not currently meet this demand," said Mr Joe Stenson, the hotels director at Tune Hotels, UK. "We want to offer guests great service and value as well as provide them with a memorable stay."
There's a gap in the market for quality, clean and secure accommodation. While there are numerous hotels offering either high or low end services, Tune Hotels appears to be moving into a space where the emphasis is giving the guest a great night sleep with cut-down non-essential services to keep the rates down.
Mr Stuart Clay, General Manager, Tune Hotel – Nairobi, Westlands, said guests don't get to use all the facilities a room or indeed a hotel can offer, like lounge chairs or baths.
"Most times you'll drop down to the restaurant to grab a meal and not even think about using room service. We don't want to charge you for these and other things you don't use – so we've done away with many of them," says Mr Clay.
He added: "Our rooms are smaller than the usual Kenyan hotel room because in truth we believe you don't actually need that much room to sleep, in fact the essentials are simply just a very high quality bed, quality linen and a great power shower. There are however fixed elements we cannot compromise on like quality of service, security and design."
Tune Hotel in Nairobi is currently in the last phase of completion with opening planned for July 2016. The hotel will employ 122 local permanent staff in different positions including front office, housekeeping, food & beverage, sales and marketing.
[crp]