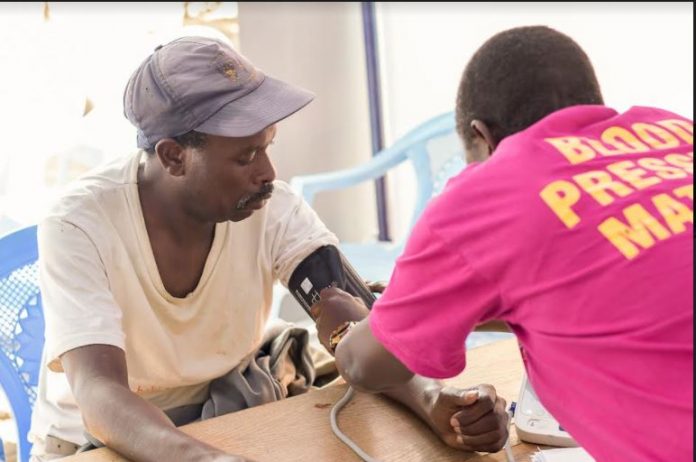 AstraZeneca's Healthy Heart Africa programme, the Pan-African Society of Cardiology (PASCAR) and other stakeholders have emphasized the need to build resilient health systems in order to address the rising burden of cardiovascular diseas.es (CVDs) and achieve universal health coverage in Africa. The discussion took place during the ongoing 15th PASCAR and KCS Congress 2021 in Mombasa.
The stakeholders highlighted prevention and treatment mechanisms, the need to focus on primary healthcare, and partnerships as key strategies to build resilient health systems.
CVDs are non-communicable diseas,es (NCDs) and the leading cause of dea,th globally. High Bloo,d Pressure (HBP) is the most frequent risk factor for CVDs. The World Health Organization (WHO) states that Africa has the highest prevalence of HBP, at 27 percent compared to the Americas where the prevalence is 18 percent.
According to the National STEPwise Survey, almost one in four Kenyans is living with HBP and more than half of Kenyans have never had their bloo,d pressure (BP) measured. Among those stated to have been earlier diagnosed with HBP, only 22.3 percent were on medication prescribed by a health worker. Low public awareness, access to screening, and low understanding of prevention guidelines are some of the obstacles affecting effective prevention, control, and management of HBP.
Kenya's Vision 2030 recognizes health as an important anchor for improving quality of life and gives priority to preventive care at primary healthcare level. The Government of Kenya has prioritised strategies to address the rising burden of NCDs through policy documents such as the Kenya National Strategy for Prevention and Control of NCDs (2021-2025). The Ministry of Health (MOH) works with stakeholders to implement plans that address the prevention, control and management of CVDs in the country, including establishment of partnerships such as the Healthy Heart Africa (HHA) Programme.
"Building resilient health systems is one of the most pressing focus areas for the health sector today. Early diagnosis and treatment supports the development of sustainable health systems. Since launching in 2014, the Healthy Heart Africa programme has contributed to improving cardiovascular healthcare in Africa by integrating with existing health platforms, especially at the primary health care level. This has enabled more people to be screened for elevated BP and facilitated early detection of HBP," said Ashling Mulvaney, Vice President, Global Sustainability, and Access to Healthcare at AstraZeneca.
HHA was launched in Kenya in collaboration with the Ministry of Health and in support of its commitment to combat NCDs. The programme contributes to strengthening local health systems by increasing awareness and information around lifestyle choice and CVD risk factors, capacity-building of healthcare providers, and driving care to lower levels of the healthcare system.
"The Pan-African Society of Cardiology has prioritized HBP in order to reduce cases of stroke and heart disea,se in Africa. We have been working with Ministries of Health, professional societies like the Kenya Cardiac Society and stakeholders such as HHA to implement the PASCAR roadmap, which provides simple and practical guidelines for the management of HBP. The goal is to achieve 25 percent relative reduction in HBP on the continent by 2025, focusing on primary healthcare which is ideal for population-wide impact. Through its activities, HHA has been instrumental in empowering people living with CVDs to manage and control their conditions and in collecting data on HBP which is key to informing data-centred policy," said Prof Elijah Ogola, Secretary-General at PASCAR and Principal Investigator for the HHA programme.
HHA is currently present in Kenya, Ethiopia, Tanzania, Ghana, Uganda, Côte d'Ivoire and Senegal, with agreement to expand into Rwanda. Since its launch, HHA has conducted over 21.8 million BP screenings in the community and in healthcare facilities, trained over 8,500 healthcare workers to provide information and awareness, screening and treatment services for HBP; activated over 900 healthcare facilities in Africa to provide HBP services, and identified over 4.1 million elevated BP readings.
Read: Telemedicine Provider HealthX Enters Kenyan Market
>>> NMS Incorporates Mental Health Care In New Level 2 &3 Facilities