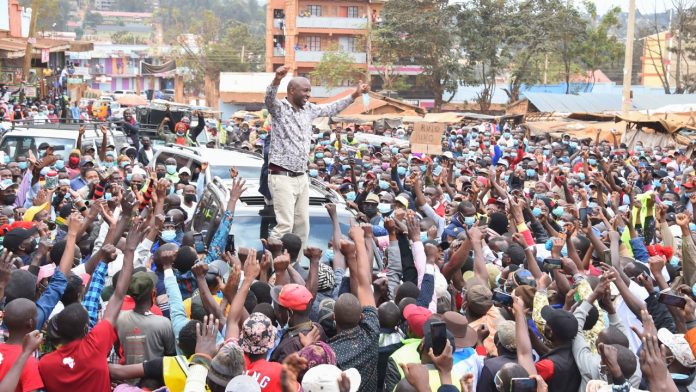 Looking at the heightened political activity in Kenya, it's apparent that the 2022 General Election is just around the corner. Billions of shillings are poured by political parties and candidates into campaigns to secure different seats including Member of the County Assembly (MCA), Member of Parliament (MP), Woman Representative, Governor, Senator and President.
You don't have to be a politician or political operative to profit from the madness. Enterprising Kenyans can make money in a clean way by identifying and latching onto various opportunities that come with the political frenzy.
Here, Business Today lists 10 smart ventures that could make you some money during the campaigns and election season in Kenya.
Printing and Branding
Whether it's t-shirts, posters, fliers or caps – branding businesses are always among the big winners when it comes to political campaigns.
Different campaigns have different branding needs. You might be required to design eye-catching posters from scratch, or simply to print existing party logos and campaign messages on a range of merchandise.
To set up a printing and branding business, one needs equipment including a computer and printing machines for different types of merchandise as well as design expertise.
Digital Marketing
The digital realm has become impossible for political candidates to ignore as it is one of the main hubs where conversations among citizens take place. Information spread on social media has been credited with swinging elections in different jurisdictions around the world.
Mastery of social media marketing, email marketing, Search Engine Optimization (SEO), content creation and web development can be an important tool in the arsenal of any modern political campaign.
With these skills, entrepreneurial individuals can reach out to different campaigns with a view to helping shape and execute their digital strategies to boost their candidates' chances.
Transportation
The campaign trail can be a hectic, logistical nightmare for candidates regardless of the position they are vying for. A candidate for MP has to crisscross the constituency, a Gubernatorial candidate has to meet people across the county and Presidential candidates factor in all of the country's regions in their campaign calendars.
Candidates, their campaign teams and their supporters all need transport to get to various locations, and this explains why transportation is always a key consideration in campaign planning.
Every five years, those hiring vehicles including pick-up trucks, luxury SUVs, mini-vans, buses and matatus look forward to a boom in business, as do those hiring out helicopters.
PA and Sound Rental Services
Some have argued that, sometimes, politics is about who can shout the loudest. It's therefore no surprise that public address and sound equipment rental services are always in high demand during the electioneering season.
For each campaign stop, candidates need microphones, speakers, stages and lights. Providers of such equipment are also often required to offer technical support, to set up and monitor the transmission during the event.
In this business, reliability is the name of the game. Providers who arrive on time, use quality equipment and ensure high-quality service delivery throughout the event get the bulk of lucrative business, as opposed to unreliable providers.
Consultancy
Politics is all about strategy, and candidates often assemble teams of experts to devise the best strategies to secure victory at the polls.
Many professionals work for different campaign teams as consultants, drawing fees. From political scientists to lawyers, economists, scholars, community and religious leaders, campaign consultancy teams bring together diverse casts to draw on their expertise.
If you feel you have something special to offer a campaign, feel free to reach out to candidates or their teams with a clear proposition.
Private Security
Candidates making regular public appearances require security as they have to make their way through large crowds and interact with different people.
Campaign teams regularly recruit individuals to offer private security to candidates, dignitaries and other key individuals during campaigns. Recruited individuals take on roles including crowd-control at campaign events.
MC'ing 
Professional emcees usually feature prominently on the campaign trail during elections in Kenya.
They are hired by different campaign teams to MC events in different parts of the country, and are tasked with keeping citizens engaged and amplifying the message of the candidate or party.
Good emcees usually reap big during this period as they get to offer their services for multiple campaign events.
Performing and Recording Music
Artists can also get in on the action during elections. They can be contracted to make promotional songs and campaign jingles or to perform at campaign events.
Depending on their status in the industry, artists can make well over a million shillings from performances at events. Campaign songs also attract big money.
However, some artists choose to stay away from political opportunities as it can affect how fans perceive their music. An example of this is popular Gospel singer Ben Githae who, since making the Jubilee Party's Tano Tena campaign song for the 2017 election, has had to fight off association with the ruling party's failures.
TV/Radio Ad Buying
According to research by the International School of Advertising (ISA), the 2022 polls are set to fuel an increase in ad spend by political parties and candidates.
Those offering media buying services for TV, radio, print and OOH (Out-of-Home) which includes billboards, will be laughing all the way to the bank as the political frenzy hits fever-pitch.
Bulk SMS Services
Whether it's political parties reaching out to their members with personalized messages, launching registration drives or sending updates on their events – SMS marketing has become a feature of political campaigns in Kenya.
Several companies in Kenya offer Bulk SMS services at different rates depending on the number of people being reached.
The primary benefit Bulk SMS offers is the capability of mass access – it enables sending a large number of SMS messages to a broad audience at once, with minimal effort.