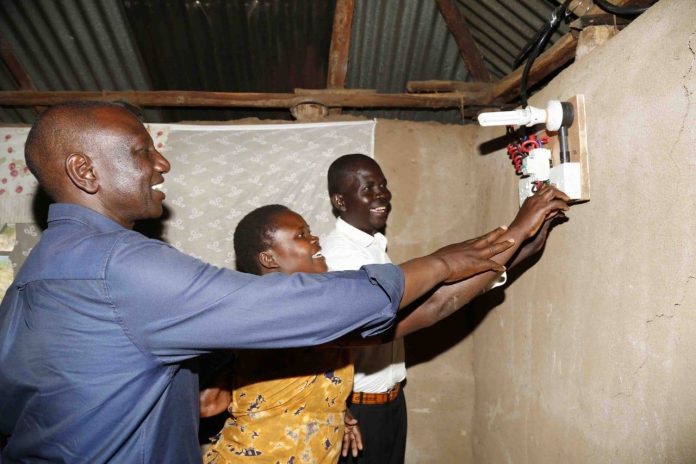 Kenyans should brace for a 15 percent increase in the cost of electricity for homes and businesses beginning Sunday, 31st December. This is after the President William Ruto-led administration scrapped the power subsidy put in place by his predecessor Uhuru Kenyatta.
It is the latest subsidy the President has done away with, after earlier scrapping the fuel subsidy put in place by the Uhuru administration. Ruto has maintained that the subsidies are unsustainable.
Energy and Petroleum Regulatory Authority (Epra) director-general Daniel Kiptoo confirmed to journalists that the power subsidy would not be extended past the end of year. It had been introduced by President Kenyatta in January alongside other reforms intended to cushion Kenyans from the high cost of power.
The subsidy had driven the cost of 200 per kilowatt hour (kWh) of electricity down from Ksh5,185 in December last year to Ksh4,373 in January this year, although a weakened shilling and fuel adjustment surcharges drove up the cost of power yet again. The expected additional increase in the cost of power will force Kenyans to dig deeper into their pockets, even as they grapple with record-high food and fuel prices.
The previous administration had also initiated a review of long-term contracts Kenya Power signed with independent power producers (IPPs), which have long been blamed for the high cost of power. The review has however proved a hard nut to crack as IPPs are not keen on renegotiating the contracts, with legal battles likely if the government proceeds with the plan.
Ruto, on the other hand, since taking office has maintained that his administration will seek to have Kenya Power run as a commercial entity, pledging to depoliticize the state-owned power distributor. Central to this mission will be newly appointed Kenya Power board chair Joy Brenda Masinde.
Masinde took over in December from Vivienne Yeda, who is among Uhuru appointees pushed out, reportedly over ties to the previous administration.
Masinde is an advocate of the High Court of Kenya and a member of the Law Society of Kenya (LSK).
Previously, she served as a Council Member of the LSK, Nairobi Branch. She is the Executive Director of the East Africa Centre for Law and Justice (EACLJ), a position she has held for the last 12 years.